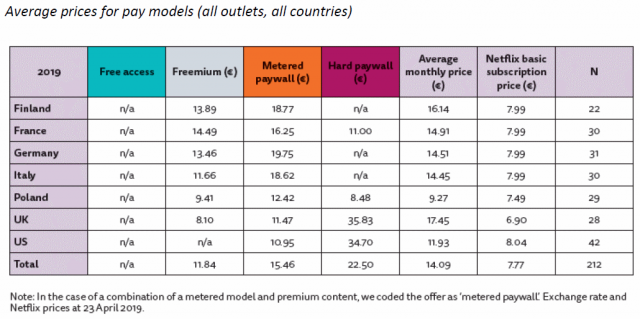 A report titled Pay Models for Online News in the US and Europe: 2019 Update published in April 2019 by the Reuters Institute indicates that the number of newspapers that charge for access to their online news is slowly increasing. The study, conducted in association with the Oxford University, features six European markets (Finland, France, Germany, Italy, Poland, UK) and the US. Even though not really a global study, it covers a variety of markets that have different languages and cultures.
The key points of the report are:
69% of major newspapers in seven studied media markets have a paywall. It is a small increase from 2017. In the US, however, newspaper paywalls increased from 60% to 76%.
Absolute paywalls that require payment before any news can be accessed are very rare (3%) amongst the 212 news organisations studied.
Monthly subscription prices average €14.09 – only a small difference to prices of 2017. The range is from €2 to €41.50 a month.
All television and radio broadcasters included in the study provide free access to their digital news sites.
Practically all (94%) news outlets that were established as digital only offer free access to their content.
WAN IFRA (World Association of Newspapers and News Publishers) regards the rise of paywalls as a sustainable model, but I disagree. Access to information on the internet has already changed the media landscape completely. The same old subscribe-to-our-fine-newspaper –model won't work in the long run.
Isn't it obvious there is a flaw in the newspapers' paywall business model?
There was a time when I deliberately inked my fingers at the breakfast table. The morning newspaper was a huge, thick stack of paper sheets with pages covered in fresh black ink. We had to pay a considerable amount of money for a media company to deliver those stacks of paper to our homes. It was fine. Later during the day, we possibly heard fresh news on a radio or television.
When the world moved to digital media, and news on the internet were updated and available 24 hours a day, the newspaper business model has largely stayed the same. Each of the leading brands are asking readers to pay for access to their online news.
Sure, there are a few media outlets in the world that can get readers to pay for online news, like The Economist, Financial Times, The Wall Street Journal, and each market's biggest newspaper.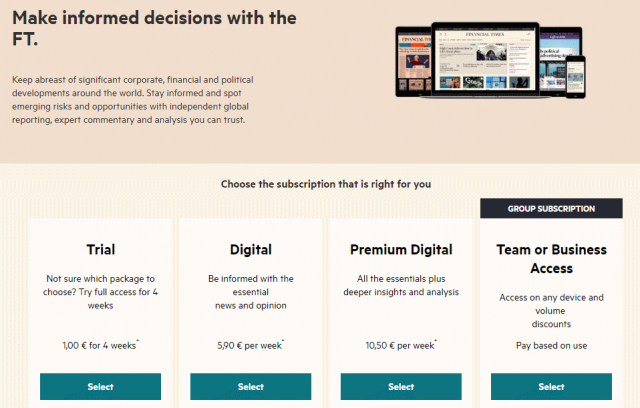 If, for instance, an active news follower wants to read The Economist, The New York Times, and the leading newspaper of her home market, she has to subscribe to three services behind paywalls. If we apply the average monthly price of 14.09 euros, the total cost is 42.27 euros per month. This is for news alone.
Movie subscription service Netflix lets you watch films published by hundreds of studios and production companies by paying about 8 euros a month. The subscriber is not tied to one content production company but Netflix streams content from multiple sources. The business model allows sharing the revenue between production companies whose content has been watched.
Ebook subscription service Scribd charges USD 8.99 per month for access to a library of more than million books, audiobooks, and to a selection of magazines and newspapers. There are some restrictions on the number of books and articles that you can read, but a normal person who reads a lot is unlikely to meet those limits. The business model that Scribd and other similar book subscription services use is based on revenue share. Publishers are paid according to a number of times their content has been read.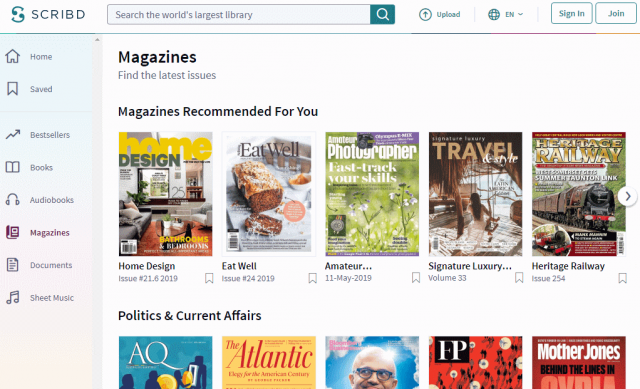 Online music service Spotify lets you listen to the music published everywhere in the world for 9.99 euros per month. Millions and millions of songs and classical tunes to listen to on a phone, tablet, or PC. A fraction of the revenue goes to the artist and composer, and also studios get their share of the revenue.
If you subscribe to all three: Netflix, Scribd and Spotify, it still costs less than three high-quality newspaper subscriptions.
Playster is a subscription service that has bundled books, movies and music into a package that costs 39.95 euros per month. I haven't tried Playster yet, so it is difficult to assess if it has the same amount of quality content as individual subscription services have.
Apple is developing its service businesses, and has introduced new products, among them a service called News+. It is a subscription to newspapers and magazines for USD 9.99 a month. Apple says hundreds of news sources are available in the service, but the small number of major newspapers has raised many eyebrows.
So, if you are subscribing to a couple of newspaper services, and a few other digital media services, having to login to multiple online services has its inconveniences. User names, passwords, credit cards, security and privacy can be different at each service. Monitoring payments to all services you are subscribing to can become a headache.
The flaws in newspapers' paywall business model are obvious: price, inconvenience for having to login to each service separately, managing and tracking payments to each service separately, and the fear of missing out (of news published on other sites).
I bet that in the long term services like Apple News Plus and Scribd are something readers are more willing to pay for than individual newspaper subscriptions.