Public buildings, and in our era, especially libraries often have a significant role in positioning a community or an entire nation to the world. Looking at the images of the recently opened (October 2017) library in the city of Tianjin in China, the wow-effect is instant. The new library is simply something you can't take your eyes off of.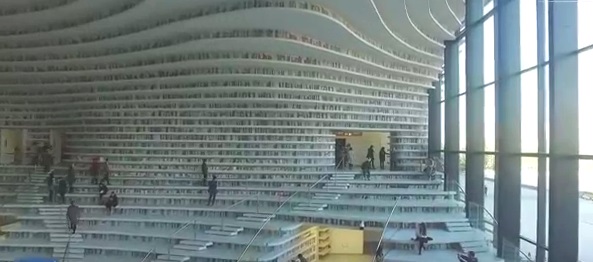 Tianjin is a metropolis on the coast about 100 km from Beijing. Dutch architect firm MVRDV designed the amazing library in cooperation with Tianjin Urban Planning and Design Institute (TUPDI). The new library has 1.2 million books on its shelves, ready to be loaned. The size of the building is 33,700 m2.
The architects of MVRDV describe the building as a cultural centre with a spherical auditorium. The bookcases that cascade from floor to ceiling make it an educational centre, and also social space.
The five-level building also has educational facilities along the edges of the interior and accessible through the main atrium space. Subterranean service spaces, book storage, and a large archive are working spaces for the employees. Reading areas for children and the elderly, and the auditorium are on the ground floor. The first and second floors consist primarily of reading rooms, books and lounge areas. Upper floors have meeting rooms, offices, computer and audio rooms and two rooftop patios.
The building project was completed in three years, which can be regarded as some kind of miracle for such a complex building. The fast construction schedule came with some sacrifices, though. For instance, the bookshelves located high up in the library don't have books, but plates that look like books. The reason for this is that there wasn't time to build public access to the bookshelves at the top.
View the video of the library filmed by New China TV:
Looking at the images of the Tianjin Binhai library also makes one think. What is the meaning of the new library? Perhaps one of its missions is to tell us that today, China is one of the most powerful nations in the world that has the wealth and the will to show that the society values education, culture and books.
The following photos by MVRDV.