The popular word processing software package Microsoft Word was originally designed for drafting documents required in an office environment. Word has, however, so many features that it is commonly used for writing book manuscripts and pretty much anything. There are very good alternatives for Word, and many of these applications are free to download and use. Here are the most popular free writing apps.
The Writing Cooperative collected the following list of free distraction-free writing apps.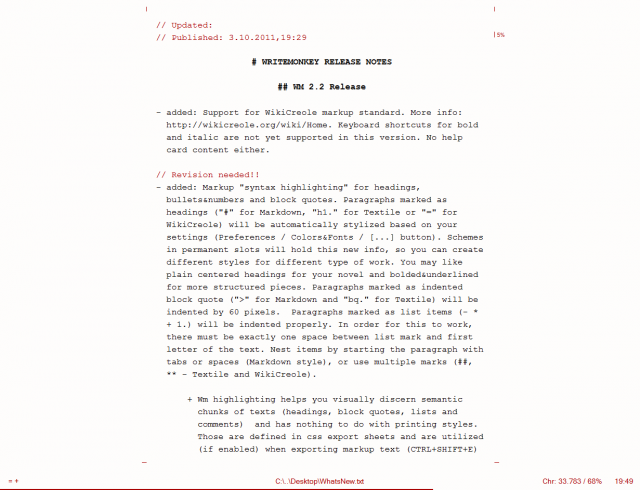 Before diving into the applications make sure to take notice where the app saves your text: locally on your device, or onto the cloud (on a server computer on the Internet). This is important to understand because it affects your choice. Some writers live in the cloud, whereas others want to have everything locally under their own control. Especially, if you travel and write, you should carefully choose your strategy.
Here is a collection of popular distraction-free writing applications.
FocusWriter
A distraction-free word processor with only a few formatting features. Timers, themes, statistics, and a spell-checker are included.
WriteMonkey
An application for distraction-free writing. Not even a menu bar is visible before you push the right button. This is for writers who want to quickly access all menu commands from the keyboard. Fast typists will like this because they don't have to raise their fingers from the keyboard. WriteMonkey can also be run from a USB stick.
Q10
Q10 is small and fast writing app that is tuned to timed writing sessions.
Write!
A simple writing app for Windows and Mac.
yWriter
A distraction-free writing application that was designed for drafting novels.
Cold Turkey
An app that turns your computer into a typewriter until you reach your writing goal.
Calmly Writer
The application's special focus mode only shows you the paragraph you're writing, but it can used in a normal manner as well.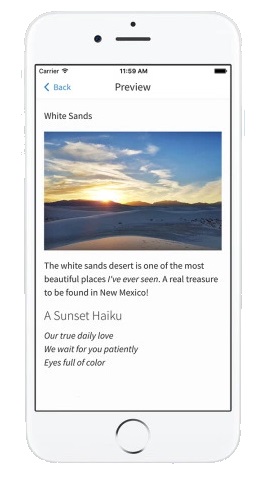 Simplenote
Simplenote has stolen our hearts for writing notes, ideas, lists, plans, book proposals, or anything that we are processing in our minds. The application is available for computers, tablets and phones, so it can be accessed anywhere. The texts are saved into the cloud so elegantly that you don't have to worry about it at all. If you are using one of the Simplenote mobile apps, it remembers what you have written and saves everything on your account even if the connection was broken down while writing or the device happened to shut down because of battery problems. The text is instantly available on all your devices that are logged in to the Simplenote account.
It is worth noting that the publishing industry's standard manuscript file format is the Word .doc (or .docx). If you are going to submit your book proposal or manuscript to a publisher (or an agent) you should import (or copy and paste) the text into the Word and save the document as a Word document.
An excellent alternative to the Word – that does exactly the same things as Word does – is the free LibreOffice software package. You have to download the entire LibreOffice suite, but for writing you only need the Writer app.
The Writing Cooperative lists even more tools that can be handy and helpful for writers.