Libraries are at a crossroads. In many countries, especially in Europe, Asia and Middle East, new massive libraries are being built. Often, they are architectural wonders that are designed to store as many books as possible. In the US, however, some libraries, like Georgia Tech and Bexar County want to get rid of paper books. They focus on ebooks and other digital material. Let's take a look at Georgia Tech's library that has been transformed into a new type of reading and learning space.


The library Crosland Tower at Georgia Tech College campus in Atlanta was built for books in 1968. The large library building is eight stories tall, and because excessive sunlight is harmful to paper, the south side of the tower didn't have windows at all.
Library management realized that books, journals and other media required by students and personnel was rapidly turning digital – and that's what people wanted to borrow. In 2016, the Georgia Tech Library was closed for a full renovation.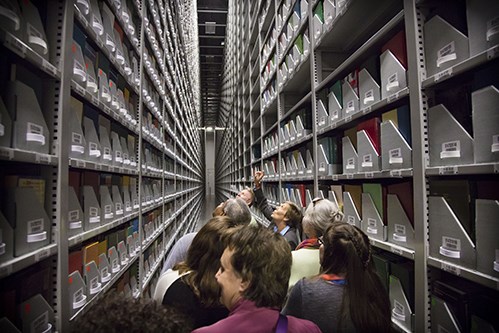 Book storage site.
The objective of the renovation project was to move 95% of the library books (about one million copies) to a warehouse, and allocate space for students where they can study, for multimedia labs, and for collaboration projects. The south side wall was replaced with large windows, and tables, chairs and sofas were brought in.
Students still can borrow library books – if they want to wait a while. The request to borrow a print book is sent from the library to the storage site located five miles away from campus. The book is fetched from the warehouse shelves and delivered to the library.
In addition to creating a comfortable space where students and college personnel can read, study and collaborate, the reason behind the radical transformation of the library was digital media.

Georgia Tech Library.
In 2017, Georgia Tech Library owned 909 730 printed books.
At the same time, the library had a collection of 1.01 million ebooks and electronic journals.
In 2017, 4.12 million ebooks and digital articles were checked out from the library.
During the same year, 21,892 printed books were borrowed from the library.
Georgia Tech Library has seen the future, and it is digital – even for an institution that originally was created to store physical products.
Is it still a library? Yes, Georgia Tech Library is a library – a modern one that welcomes people to learn inside its walls.


Via Business Insider.
Photos by Georgia Tech Library.