Ereader devices have found a new life and new customers after manufacturers started designing large-screen products with handwriting capability. 8, 10 and 13-inch ereaders can be used for taking notes, annotating documents, reading comics, PDF documents and ebooks. The Boyue Likebook Mimas is a 10.3-inch ereader that comes with a Wacom stylus, Android software and speedy performance.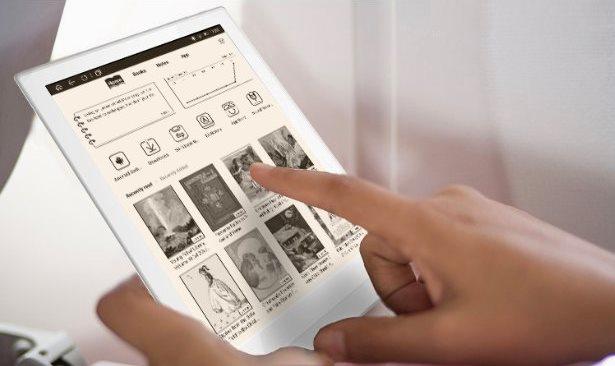 The Likebook Mimas is priced competitively against other 10-inch ereader/notetaking devices, such Remarkable and Onyx Boox. The price for the Mimas was 469 euros at an EU retailer (see all stores at the end of the article).
Android 6.0.1 software is powering the Likebook Mimas, which means it is possible to use Android applications downloaded from the Google Play Store on the device. It is possible to download, for instance, Kindle ebook reading app and turn the Mimas into a large Kindle ereader.
Most people, however, are likely to use a product like the Mimas for note taking, handwriting, sketching, and reading ebooks, comics, and PDF documents.
A video review of the Mimas shows its reading and handwriting features (in French, but it is easy to follow what is happening):
Tablette-Tactile.net has posted a thorough review of the Likebook Mimas, and the conclusion is favorable for the product. The reviewer liked the build quality of the device, user interface, stylus responsiveness, front light, physical buttons, ports, and good overall performance. The reviewer didn't like language implementation (poor translation), EPUB ebooks can't be annotated with the stylus, and there is no gyroscope.
Key features and specifications of the Boyue Likebook Mimas
– 10.3-inch Eink HD Mobius screen.
– Display resolution 1872 x 1404 pixels (227ppi).
– Front light.
– Touchscreen that can be used with fingers and with the included Wacom stylus.
– Android 6.0.1 operating system software, including Google Play Store for downloading apps.
– Processor RK3365 8-Core 1.5GHz.
– RAM 2GB LPDDR3.
– 16GB internal storage space.
– microSD memory card slot.
– WiFi (802.11b/g/n).
– Bluetooth 4.1.
– USB-C port.
– Loudspeakers.
– Microphone.
– 3.5 audio jack.
– 4700mAh Polymer Li-on battery.
– Dimensions 191 x 262 x 8 mm
– Weight 430 gr.
Boyue Likebook ereaders are available, for instance, at AliExpress, Amazon.com and Ereader.Store (a retailer in EU).
Boyue Likebook Muses
The Ebook-Reader.com reports that Boyue has made available a compact version of the product as well: Likebook Muses. The Muses comes with 7.8-inch screen, and essentially with the same features as the Mimas. The price for the Muses at Amazon.com was USD 329.