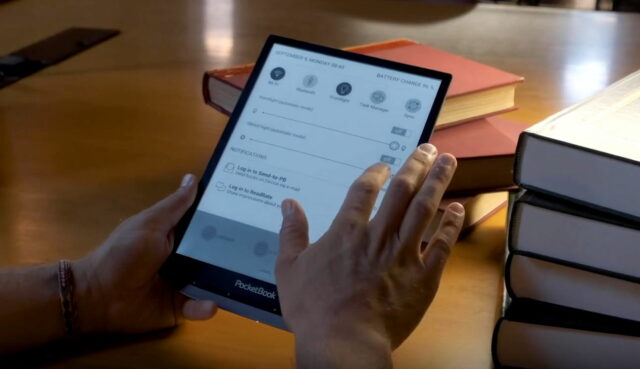 It is highly personal which size reading device you happen to like. A small ereader is easy to carry along for commutes and trips, whereas a large device can display more and many types of content, like comics, magazines and PDF documents as well. It can't be a coincidence that 10 inches is the most popular size for tablets. Now, Pocketbook has created an e-reader that is 10.3 inches in size: the InkPad X.
Pocketbook has focused on ebook reading and audiobook listening experience in the Inkpad X, rather than making a slate for writing (as many other vendors have recently done). Plenty of ebook file formats are supported in the Inkpad X, including comic book files. Common audiobook and digital music formats can be played as well.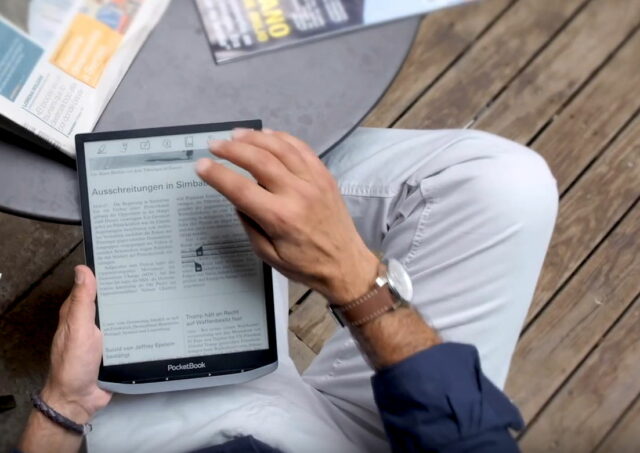 Text-to-speech feature lets you listen to ebooks. The device can read them aloud to you. Loudspeakers are not built-in, but audio can be listened on headphones or loudspeakers via Bluetooth or USB connection.
The Inkpad X doesn't have a memory card slot, but 32 GB of internal storage space means there is plenty of space for ebooks and audiobooks – even though some of that space is occupied by the system. Pocketbook provides cloud storage space for books and access to Dropbox storage as well.
The device is expected to be available in late 2019, but the vendor hasn't announced the product price level yet. We expect the Inkpad X to cost less than other 10 inch ereaders that have been designed for notetaking and handwriting with a stylus, like Remarkable or Likebook Mimas.
View a video of the Pocketbook Inkpad X that shows the e-reader in action:
Pocketbook Inkpad X key features and specifications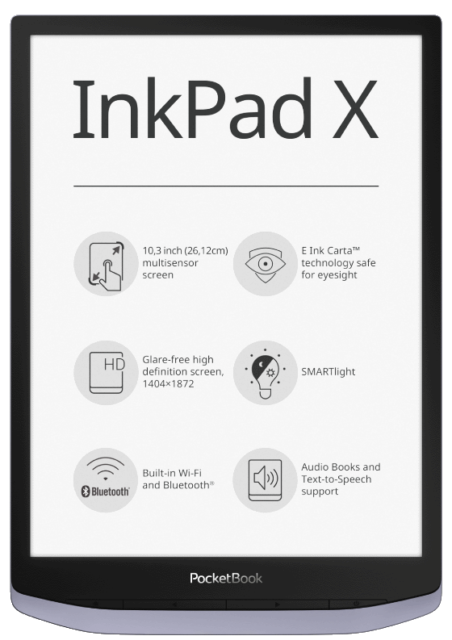 Display size 10.3 inches (26.12 cm).
E Ink Carta Mobius capacitive touchscreen in 1404 × 1872 resolution. Pixel density 227 DPI.
Displays 16 levels of greyscale.
Front light for the display makes it possible to read in dim light or in dark.
Linux 3.10.65 operating system powers the device.
Processor Dual Core (2×1 GHz).
RAM 1 GB.
32 GB of internal storage space.
Wi-Fi.
Bluetooth.
USB Type C port.
E-book formats ACSM, CBR, CBZ, CHM, DJVU, DOC, DOCX, EPUB, EPUB(DRM), FB2, FB2.ZIP, HTM, HTML, MOBI, PDF, PDF (DRM), PRC, RTF, TXT.
Image formats JPEG, BMP, PNG, TIFF.
Audio formats MP3, OGG and audiobooks MP3, M4B can be listened with headphones via micro USB adapter and via Bluetooth on loudspeakers and headphones.
Text-to-Speech (the device can read ebooks aloud) English only, but 15 additional languages available for free on pocketbook-int.com.
Applications: Book store, Library, Dictionary, Browser, Audio player, Gallery, Calculator, Notes, RSS News, Chess, Klondike, Scribble, Sudoku.
Dictionaries: ABBYY Lingvo dictionaries (26 language combinations), English – German, Webster's Dictionary 1913.
Online services: PocketBook Cloud, ReadRate, Dropbox, Send-to-PocketBook.
Battery 2000 mAh Li-Ion Polymer. Up to one month of battery life depending on usage and settings.
Dimensions 249 х 173 х 7.7-4.5 mm.
Weight 300 g.
The Ebook Reader blog remembers that the Inkpad X is not the first large ereader from Pocketbook, but it was a long time ago when the company marketed them.