Dutch ereader vendor Icarus has introduced a device with large 7.8-inch E ink screen that also has enough processing power to run a recent version of Android operating system. In addition to reading ebooks or viewing PDF documents, Android applications can be installed to the device, enhancing its functionality.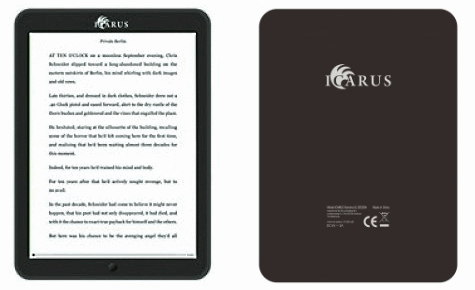 Four features make the Illumina XL6 an attractive option for ebook lovers who are looking for a powerful ereader device:
– Large and sharp 7.8 inch E ink screen. 300 dots per inch density means it is as sharp or sharper than printed book pages.
– The ereader is running on Android 6 operating system. This is a relatively recent version of Android software which means that a vast number of applications on the Google Play app store are available for the e-reader – although not each and every app is compatible.
– A powerful processor (for an ereader) that actually makes it possible to run many applications downloaded from the Google Play Store.
– The ereader doubles as an MP3 player, making it possible to listen to audiobooks and music.
It is likely that Kindle ebooks can be read on the Illumina XL6. The trick how to do it is to download Kindle for Android application from the Google Play Store to the device. Until we (or someone else) have tried the Kindle app on an actual production device, and confirmed it works, we can't be absolutely sure if the Kindle app can open ebooks.
The Icarus Illumina XL6 is priced at 229.95 euros with Dutch VAT, and without VAT 190.04 euros (here you can check the vendor's web shop for any updates on the price). Icarus ships products to all continents, but not to South America and Russia.
Icarus Illumina XL6 e-reader specifications
7.8-inch E Ink Carta HD screen.
Display resolution 1872 x 1404, 300 dots per inch (DPI).
Touch screen, adjustable frontlight.
Android 6 operating system with Google Play application store.
16GB of internal storage space.
No memory card slot.
2GB RAM.
Rockchip RK3368 octa-core, 64-bit processor.
WiFi 802.11 B/G/N.
USB 2.0.
Bluetooth.
Compatible ebook formats: PDF, FB2, EPUB, RTF, MOBI, TXT, HTML.
Plays MP3 audio files, for audiobooks and music.
Displays JPG, BMP, GIF, PNG images.
Included applications: File Manager, Music Player, Dictionary, Image Viewer, Library, Reading.
Battery 2800mAh, thousands of page refreshes at a charge.
Dimensions 145 x 200x 9mm.
Weight 275 gr.
Reading functions
Go to Page
Text Search
Bookmarks
Table of Contents
Screen Rotation
Auto Page Turning
Book Information
Music/audiobook Player
Adjust Font Size
Adjust Font Type (in EPUB documents)
Adjust Page Margins (in EPUB documents)
Install new fonts (TrueType)
Via The Digital Reader.