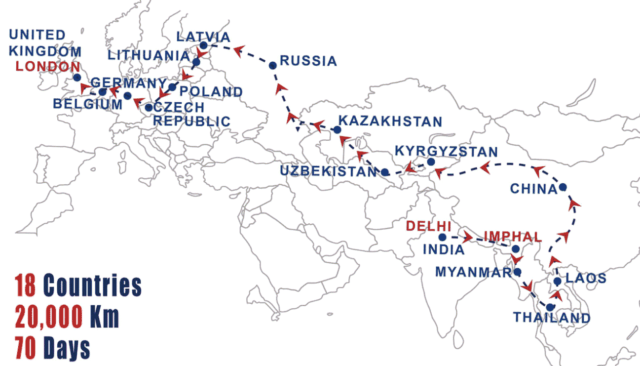 Adventures Overland, an Indian travel company for long road tours, is creating a bus trip of a lifetime for travelers who want to experience South Asia, China, Central Asia, Russia, Central Europe and England. The bus trip will take passengers from Delhi, India, to London, UK. The thing that makes the journey exceptional is that the route is not the shortest and fastest one, but a tour of a number of Asian and European countries.
That's reason why the trip from Delhi to London is planned to take 70 days and 20,000 km / 12,400 miles. It covers 18 countries along the way. Sightseeing stops are included as well, bringing the average daily mileage down to only 178 miles, or 286 km.
The first bus is planned to leave Delhi in May 2021. Only 20 passengers will be onboard. An end-to-end ticket is expected to cost around USD 20,000. The company is also planning lower cost tickets that cover a specific section only. The bus will start its return trip along the same route after it has reached London.
An uninterrupted road trip this long that covers many different types of countries and cultures not only requires a massive amount of planning and preparation in advance, but also experience to manage inevitable problems and surprises along the way.
Adventures Overland organizes a number of self-driving tours in Asia and also a road trip from India to London. The long road trip to London covers almost the same places as the bus trip. It was driven in 2017 for the first time.
The personnel guiding the trip must be well prepared but also passengers must have the ability to cope with fellow travelers for 70 days. For more than two months in the same bus with a group of nice and other type of people.