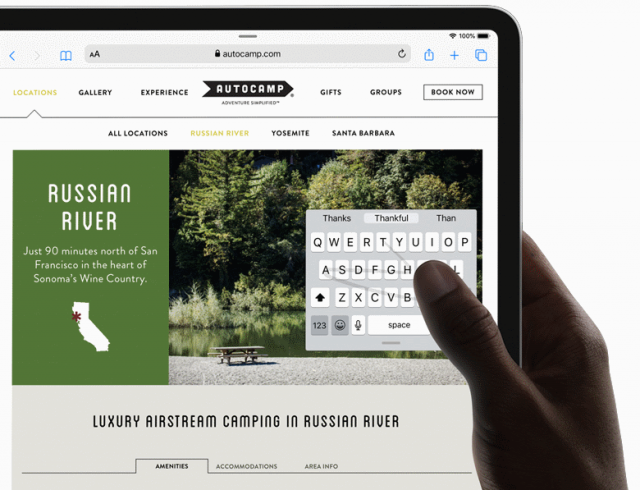 So far, Apple has used the same iOS operating system both for iPhones and iPad tablets. Now the company wants to develop the iPad product range to become more like computers, and has decided to create a dedicated operating system for the tablet. It is known as the iPadOS. The development didn't start from scratch, but from the existing iOS. Here are the key things iPadOS enables for writers and ebook readers.
iPad tablets have been popular among readers since the product was launched. Books app (earlier known as iBooks) is an excellent product for reading ebooks, and iPad tablets have a high quality display. Writers are interested in the iPad Pro tablets because they can write with the Pencil directly to the screen or use the detachable physical keyboard. The price is high, but if you can leave your laptop home when you travel, it makes a big difference.
iPadOS features that benefit all users
USB
iPadOS can find data and write data to a device attached to a USB port. For instance, it is possible to quickly make a backup to an USB stick, or import videos from hard drive for editing.
Privacy
Apple has taken a strong public stance for privacy, and to a certain degree, it shows in iPadOS. For instance, if an application running in the background is trying to locate its position, the operating system informs the user who can deny or allow it.
Photo and video editing
Photo and video editing features are amazing. There is a link at the end of this article to a video that shows how advanced editing features iPadOS has.
Voice control
Instead of touching the screen with a finger or stylus, it is possible to control the iPad with voice. The only language the first version of iPadOS recognizes is English. Apple says that all technology components required to interpret voices and to follow user's commands reside in the tablet. Speech doesn't have to be sent anywhere else for processing.
Dark mode.
Features that facilitate ebook reading
Fonts
It is possible to install additional fonts to individual apps on iPadOS. For instance, you can download new fonts from the App Store and use them in the Books reader application.
Dark Mode
Having dark background and light foreground is pleasant for the eyes in certain light.
Reading Goal
Books ebook reader app has a feature known as Reading Goal that lets you set a target for your daily dose of books. It is a counter that monitors if the goal is met when you read books or listen to them.
iPadOS features that assist writers
Word Processing
Cut and Paste functionality works in a document and between windows as well. You have to learn a few pinches and taps that require two or three fingers.
Mini Keyboard
The on-screen keyboard can be shrunk into a compact window that can be moved around the screen.
Multitasking
Multiple apps can run at the same time in iPadOS. For instance, it is possible to move text and image from one app to another when they are both active. To assist multitasking, app windows can be saved on the right side, where they can quickly be pulled to action to the screen.
Cloud services
iPadOS comes with full-featured, PC-compatible Safari browser. It means that all those cloud services, like Google Docs that were inaccessible with a mobile browser are now available.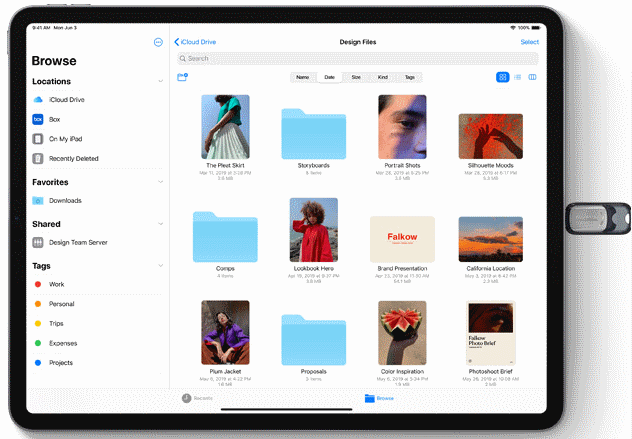 File Manager
iPadOS provides direct access to folders and files stored in the tablet. File Manager app lets you view and organize folders and documents also on a USB drive. Files on a home computer can be accessed as well if the home network and SMB communication are enabled.
Mouse
Mouse pointer is available in iPadOS since it is required, for instance, in copy-paste and photo editing, but some Apple experts believe mouse functionality could be coming to iPadOS as well.
There are many other new features in iPadOS. You can find all the details in Apple's feature list.
These iPad tablets are ready for the iPadOS
iPadOS is available in autumn 2019 as a free download to the following tablets:
12.9-inch iPad Pro
11-inch iPad Pro
10.5-inch iPad Pro
9.7-inch iPad Pro
iPad (6th generation)
iPad (5th generation)
iPad mini (5th generation)
iPad mini 4
iPad Air (3rd generation)
iPad Air 2
Images: Apple.
Claudio Juliano has installed the iPadOS beta 1 software on his
iPad Pro, studied the new features, and recorded a video showing how they work.