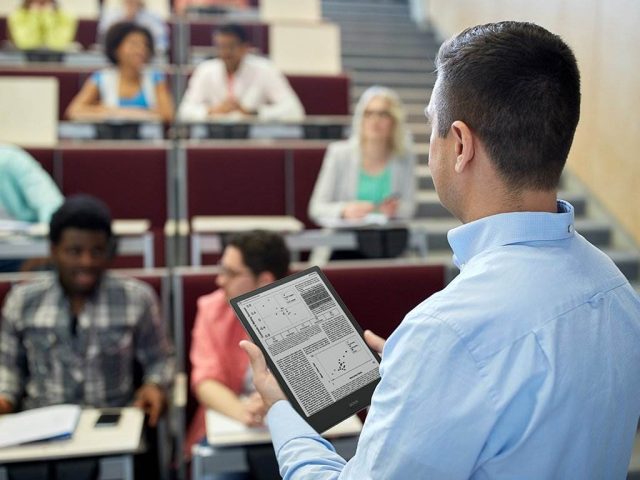 If you need a mobile device for reading ebooks or documents and for taking notes or drafting images, an ereader is a valid option today. A tablet is another obvious option, but new high-end ereaders have specifically been designed for this purpose. At the moment, the most interesting e-reader development is happening in China where vendors like Onyx and Boyue introduce smart new features to their products. Now, Onyx has added speech recognition into Boox ereaders. It can convert spoken words into text.
Two product categories of reader devices
The traditional category of ereaders is a simple, 6 inch device that is only intended for reading. These products don't have much processing power and cost typically 50-150 euros or dollars.
The new category of advanced ereaders includes devices that typically are 10-inches in size, come with a stylus, Android operating system software, and reasonable processing power. In addition to reading, these devices have been designed for note taking, handwriting and drawing. The current price range is at 350-600 euros or dollars.
Onyx is one of the companies that has specialized in these high-end ereaders that often are targeted at writers, researchers and students. Other vendors are enterprises like Boyue, Sony, and Remarkable.
Converting speech into text in e-readers
Onyx has put together a major software update that, among other things, can recognize speech and convert it into text that can be edited in word processing apps. This new software is available for download to all Boox ereaders that have a built-in microphone.
You can save your spoken notes, ideas, or record a meeting with a Boox ereader. It converts the captured speech into text for further processing. In order for conversion to work, the speech recognition software requires an active internet connection via Wi-Fi. It is likely that the actual speech recognition is processed by a central computer that returns the plain text to the ereader.
The Ebook Reader blog was the first to test the speech recognition feature. The tester discovered two languages on the device: Chinese and English. We expect that more languages are coming because, for instance, Onyx handwriting recognition works with a number of languages.
Multiple methods for taking notes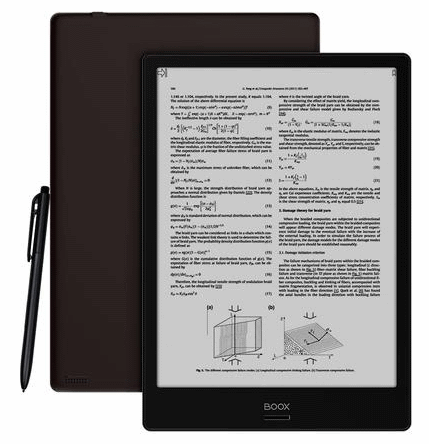 In addition to the on-screen keyboard and speech recognition, Onyx Boox ereaders have three other methods for jotting down and saving notes.
– Bluetooth keyboard that is wirelessly connected to a Boox ereader. These physical keyboards are available in many sizes.
– Handwritten text can be converted into text. You can use the stylus to write on the screen, and a piece of software in the ereader turns it into text that a computer understands.
– A handheld scanner. A compact scanner that is used like a pen to scan lines of text from a book or document. Optical character recognition software converts the scanned images into text.