Large English-language markets, such as the US and the UK are leading the transition to ebooks, but large European countries, like France, Germany, Italy and Spain are beginning to turn to digital reading as well. A survey conducted in France indicates that ebooks are already well established (21% of French have read an abook), especially, among avid readers who like to use ereader devices.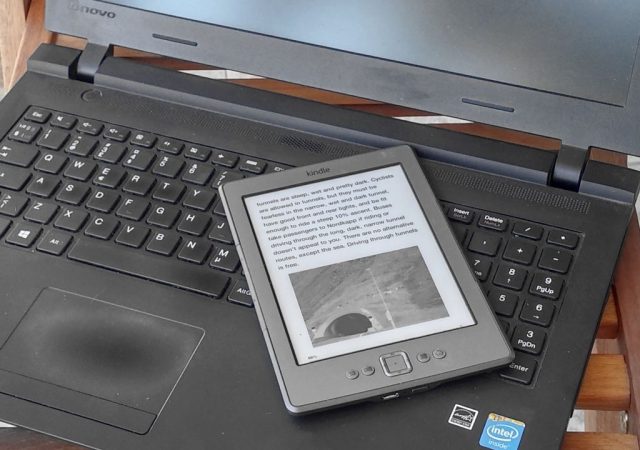 Global internet giants who are marketing ebooks, like Amazon and Google have taken a strong position in the French market. These companies and for instance, Kobo provide ereading devices and reading applications for all popular computing platforms. According to the survey, book lovers in France tend to buy ebooks both from the reading application of their choice and directly from a major bookstore.
Here are highlights from the 2017 ebook survey results in France:
– 21% of the French population aged 15 and over have already read a digital book.
– Vast majority use dedicated ereader devices for reading ebooks (82%). Tablet is used for reading by 18%, smartphone by 10%, PC by 7% and a tablet/laptop hybrid by 6%. If we combine tablet and hybrid device numbers, tablet is used by 24%.
– Ebooks haven't much changed reading habits or spending in books: 64% buy as much as before, 16% purchase more, 20% buy less.
– 73% have downloaded free ebooks.
– Three channels dominate the distribution of ebooks: the bookstore connected to the reading application (29% of ebook readers buy from the app default store), large global bookstores (27%) and French bookstores (24%).
– 63% of readers like to pay for an ebook when they need it. Only 7% is interested in paying for a subscription, and 20% in loaning digital books.
– The most read ebook genres: novels 61%, essays 28%, guides 23%, technical 21%, science 21%.
– Many people who read ebooks are avid readers: 21% of them read also more than 20 printed books per year.
The survey was conducted in France by OpinionWay in February 2017. First, 2006 people (aged 15 and over) were interviewed via telephone, and after that, 506 ebook users responded to an online survey.
Via Actualitte.
The survey results document in French below:
Barometre Usage Livre Numerique 2017 SNE SOFIA SGDL by ActuaLitté on Scribd