DJI is a company that is renowned for its drones. Despite the wind and constant movement of the drones when they are flying, they can shoot stable video images because of gimbal image stabilization system DJI has developed for the drones. What if you took these image stabilization technologies and designed a handheld camera? DJI Osmo is the company's first camera with a gimbal in it, and the video images shot with it look fabulous.


For instance, the DJI Osmo allows you to walk or jog and shoot video clips that look like someone had shot them on a movie camera that was installed on a crane. Beautiful video sequences can also shot when mountain biking, skiing or in other activities that require movement.
During our travels when we have discovered a truly interesting and visually rich place, we have wanted to shoot videos about street life while walking among the locals. This is not possible using even a high end SLR camera because their image stabilization systems can't correct so large movements.
DJI Osmo maybe a solution to many problems travel, outdoor and activity photographers have. The product consists of two major elements: a camera with a built-in gimbal, and a handle that has some intelligence in it.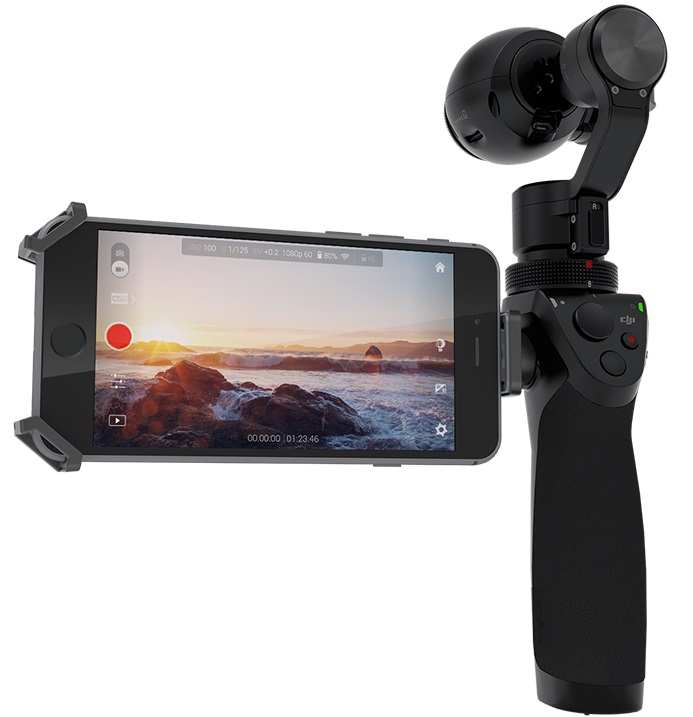 The camera has a high-resolution image sensor (see below for specs), but it doesn't have a viewfinder or screen that would show what is really inside the frame. That's why the camera comes with a smartphone holder. You can attach your phone to the holder, connect it via Wi-Fi to the Osmo camera, and use the phone as the viewfinder. Smartphone is required for other functions as well, such as remote control (up to 25 meters), adjusting advanced camera settings and different shooting modes. DJI Go app must be downloaded to the smartphone.
DJI has manufactured a few accessories that let you mount the camera to a bicycle, car, tripod, or another object that is suitable for the universal mount.
DJI Osmo comes in three configurations X3, X5 and X5R. The key difference is the camera, but even the entry level camera X3 can shoot 4K video and 12 megapixel still images. At the moment, the Osmo has very little competition, and it is reflected in the prices that start from 749 euros.
View a video where tech publication Gizmodo tries out how the Osmo camera works in practice. It is quite impressive.
DJI Osmo camera key features and technical specification
Dimensions 2.4 x 1.9 x 6.4 inches (61.8 x 48.2 x 161.5 mm)
Weight (Including Battery) 201 g
Gimbal ZENMUSE X3
Weight 221 g
Controllable Range Tilt: – 35° to +135°, Pan: ±320°, Roll: ±30°
Mechanical Range Tilt: – 90° to +150°, Pan: ±330°, Roll: – 50° to +90°
Camera information for X3 model
– Sensor Sony Exmor R CMOS; 1/2.3" Effective pixels: 12.4 megapixels, size 4000 x 3000 pixels
– 94° FOV 20mm (35mm format equivalent)
– f/2.8, ISO Range 100-3200 (video);100-1600 (photo)
– Electronic Shutter Speed 8s - 1/8000s
– Interval, Timelapse, Auto Panorama, Selfie Panorama modes
– Video Resolution:
Ultra HD: 4K (4096 x 2160) 24/25p
UHD 4K (3840 x 2160) 24/25/30p
2.7K (2704 x 1520) 24/25/30p
Full HD: 1920 x 1080 24/25/30/48/50/60/120p
HD: 1280 x 720 24/25/30/48/50/60p
– Video Recording Modes:
Auto; Slow Motion
Max. Video Bitrate 60 Mbps
– video encoding MP4/MOV (MPEG-4 AVC/H.264)
– Micro SD memory card slot with Max. Capacity 64 GB
– Wi-Fi Video Link
– Battery type LiPo with capacity of 980 mAh
– Charging Temperature 59° to 104° F (15° to 40° C)
– Operating Temperature 14° to 122° F (-10° to 50° C)