Even though ebook reader device manufacturers are not abandoning small 6-inch products, the innovation has moved to larger devices. 7.8, 8 and 10 inches are the ereader product sizes that manufacturers are bringing to that markets. Onyx Boox Nova (and its handwriting-capable cousin Boox Nova Plus) comes with sharp 7.8 E ink screen and Android software.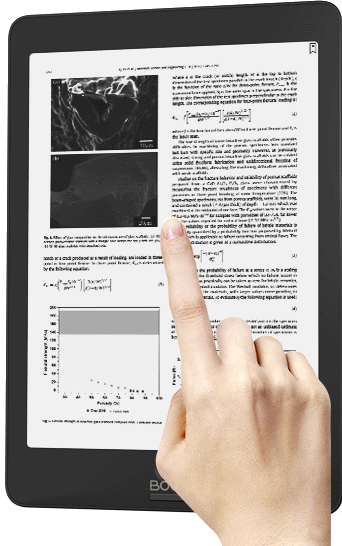 A key feature in the Onyx Boox Nova is that it is running on Android operating system. Among other things, it means that it is possible to download and run Android apps on the e-reader. All Android application won't run properly on an ereader because hardware is slightly different to tablets or smartphones.
Onyx has recognized this, and has decided to supply a dedicated App Store for E Ink devices with the Boox Nova. This is quite remarkable. Let's hope the selection of applications is sufficient so that ebook readers can find their favorite apps in the store.
The frontlight in the Boox Nova can be switched on and off (to save battery), and the warmth of the light can be adjusted as well. There is no memory card slot, but the product comes with ample 32GB of storage space.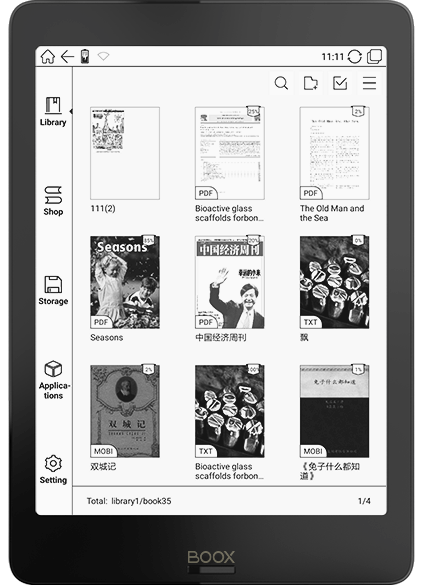 The ereader can transmit audio to loudspeakers via Bluetooth. If you have portable Bluetooth speakers, you can listen to audiobooks saved in the Boox Nova through the speakers.
The Boox Nova and the Boox Nova Plus are two different products. There are only two features that make them different, everything else in these products is the same. The Boox Nova has a frontlight, but you can't draw or write directly on the screen. The Boox Nova Plus doesn't come with front light, but it comes with stylus that lets you write on the screen.
Onyx products can be ordered from Amazon stores. Check your local Amazon for the price and availability.
Notebook Italia recorded a video clip (below) where an Onyx marketing representative introduces the Boox Nova.
Key features and specifications of the Onyx Boox Nova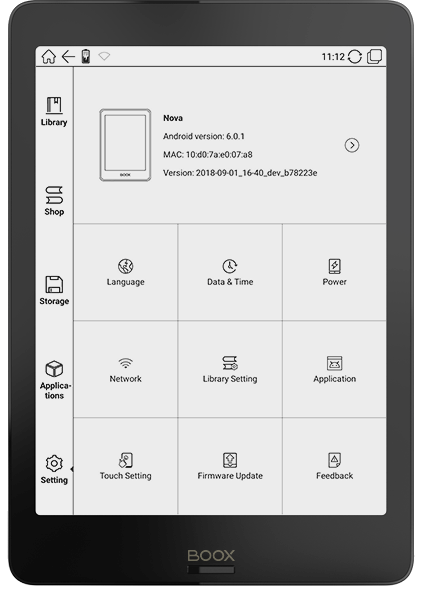 7.8-inch HD Eink Carta screen. Capacitive touch.
Screen resolution 1872 x 1404 pixels, 300 dots per inch (dpi), 16 gray scale.
Cortex-A17 1.6GHz Quad-core.
2GB RAM.
32GB of storage.
Front light with warm and cold shade control.
Wi-Fi.
Bluetooth 4.1.
USB-C port.
Android 6.0 operating system.
Ebooks and documents: EPUB, PDF, TXT, DJVU, HTML, RTF, FB2, DOC, MOBI. It can open DRM-protected ebooks.
Audio files that can be listened:WAV, MP3.
Buttons: back, power.
2800mAh Li-Polymer battery.
Dimensions 196 × 137 × 7.7 mm.
Weight 240 gr.