Natural Parks
Natural areas reserved for wildlife in Algarve are either coastal wetlands or hilly inland areas. Naturally, there is an exception to this: southwestern Alentejo and Costa Vicentina, a large area on the western coast that covers both hilly forests and the Atlantic coast in all its shapes and forms. Here is an introduction to the most popular nature areas in Algarve.
Serra de Monchique
Monchique is the highest mountain in Algarve. Foia, the summit, measures 902 meters / 3000 feet. Monchique has an incredible variety of landscapes, plants, and wildlife. It is a magnificent destination for hikers, mountain bikers, and everyone who loves beautiful sceneries.
The road trip to Foia is memorable not only because you have reached the highest point of Algarve, but also you have traveled one of the most scenic routes of the region. The remarkable thing about the views from Monchique is that you can see both Portugal's western and southern coasts at the same time.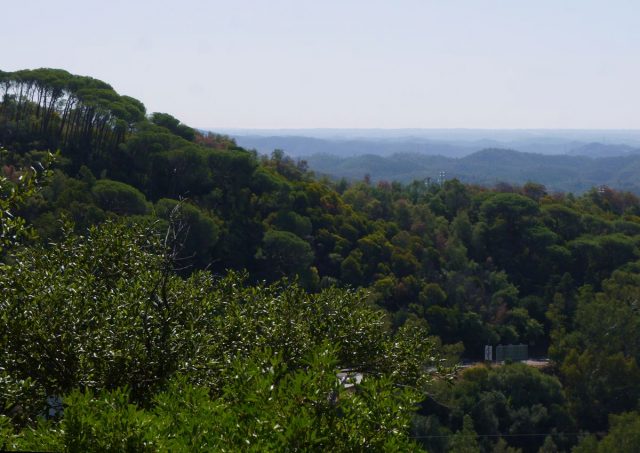 The mountain has volcanic origins. It consists of schist up to 300-400 meters / 1000-1300 feet and sienite up to 902 meters / 3000 feet.
Monchique is a genuine botanical garden where more than 1000 plant species thrive. Mediterranean oak (Quercus suber), chestnut (Castanea sativa) and strawberry tree (Arbutus unedo) forests are the original species. Eucalyptus (Eucalyptus globulos) and tall pine (Pinus silvestris) were introduced later to the area.
Otter (Lutra lutra), cabrera rat (Microtus cabrerae), water lizard (Lacerta schreiberi), tortoise (Mauremis leprosa), the Portuguese boga (Chondrostoma lusitanicum ), Bonelli's eagle (Hieraaetus fasciatus), and the copper eagle (Circaetus gallicus) are some of the animals that live on Monchique.
Caldas de Monchique, on the lower slopes of the mountain, is a small village built around a spa. It is located on the southern face of Monchique. It is difficult to find a lusher forest in Algarve than there is in Caldas de Monchique.
The village of Monchique, which provides essential services for visitors, is also the junction for the mountain roads that lead west to Aljezur, farther north and east along the mountains, and south towards Portimao.
Parque Natural da Ria Formosa
Ria Formosa is a large wetland area composed of islands, lagoons, dunes, marshlands, islets, and channels near the shore. It supports a large ecosystem of birds, sea life, and plants. First and foremost, Ria Formosa is a paradise for birds. Large numbers of both local birds and migratory birds live in the park and can be viewed by visitors.
Some of the rarest bird species in the park are the red-billed duck (Netta rufina) and the camão (Porphyrio porphyrio). Other rare species that live in the park include chameleon (Chamaeleo chamaeleon) and common cayman (Porphyrio porphyrio).

The park covers a large area from Faro to Tavira. Ria Formosa can be explored by foot and by boat. Boat tours start from Olhao, www.sabinoboattours.com/en, from Tavira or Faro, www.formosamar.com/en.
For exploring the wildlife in the park by foot, go a couple of kilometers/miles east towards Olhao. Drive along the 125 road and turn right at a petrol station on the outskirts of town. Follow the signs to a campsite until you reach a railroad track. Drive across the railroad, and after a couple of hundred meters/ yards, turn left to a place that is closed by a gate. That's the Ria Formosa visitor center. There is an entrance fee to the park. No pets allowed.
Fonte da Benémola
Fonte da Benémola is a protected area where you can walk along marked trails only. The Menalva stream that flows across the area brings water to the plants and animals even during summer, making it an exceptional inland destination in Algarve. Springs are the sources for most of the water. Small dams have been constructed providing water for nearby fields.
Birds, otters, and bats are some of the species that live in the area. Strawberry tree, wild olive, orchids, and other flowers thrive in Benémola as well.
Fonte de Benémola is located near the village of Querenca, a few kilometers/miles north of Loulé. Two trails 4.5 km / 2.8 miles and 9 km / 5.6 miles have been signposted for hikers to allow them to survey the wildlife.