Portugal has a long history involving Spain, England, the Vikings, North Africans and other nations that have approached the country's shores from the sea. Yet, it is amazing how unique the Portuguese culture is. It is very different from Spanish culture and from other European cultures.
Portuguese people are friendly and helpful if you can find a common language to communicate. I have asked for help at petrol stations, shopping malls, and other places until I found someone who spoke English; people have always been delighted to chat and help. Some of the following tips may not please everyone, but the point really is to indicate that some things are different in Portugal. When they relate to safety, it is important to be as direct as possible in order to avoid misunderstandings.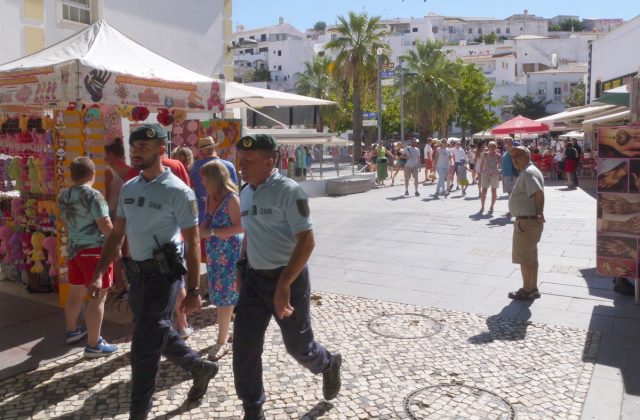 Local officers patrolling the streets of Albufeira's old town.
Portugal is rated as a relatively safe country (as ranked by the U.S. based Overseas Security Advisory Council OSAC). The risk for violent crimes is low, but petty crimes in tourist areas are a risk for all travelers. Lisbon and its nearby attractions are the high-risk areas for petty crimes, and Algarve's busy tourist towns are mentioned as high-risk areas by OSAC as well. If you rent an apartment or a house, it probably has multiple door locks and window grills, even though home break-ins are rare. In Algarve, the feeling of safety is undisturbed on the streets (apart from traffic and dogs which will be explained later). Families, couples, and singles can explore tourist towns both in daylight and after sunset with peace of mind.
The Portuguese language has very little in common with Spanish. If you can read Spanish and you read a Portuguese newspaper or web page, there are sections that somewhat resemble Spanish. As a spoken language, however, Portuguese sounds completely different, and your Spanish skills won't help you.
Foreign languages are not widely spoken in Portugal outside the tourist resorts. The good news is that Algarve, as a popular vacation and retirement destination for Europeans, is a region where foreign languages are understood. This applies to local people who are dealing with tourists in customer service-related work. Often, they only know the words required for their work. For instance, a waiter may be familiar with food and drink terminology in English and in German, and will likely keep the discussion on those subjects.
If a customer-service person you are addressing in English at a store or at a restaurant simply disappears without saying a word, don't panic. He or she probably went as quickly as possible to the backroom to find a colleague who speaks English. The newly found colleague is more than happy to help you in your language.