I have had a Bluetooth keyboard for quite some time, and have been very happy with it. I have connected the keyboard to an Apple iPad or Android tablet and usually typed notes or messages on it. It is a regular, light and thin keyboard without fancy design elements. It just works well. Elretron, however, has designed a gorgeous Bluetooth keyboard called Penna that also comes with additional features that regular mobile keyboards don't have.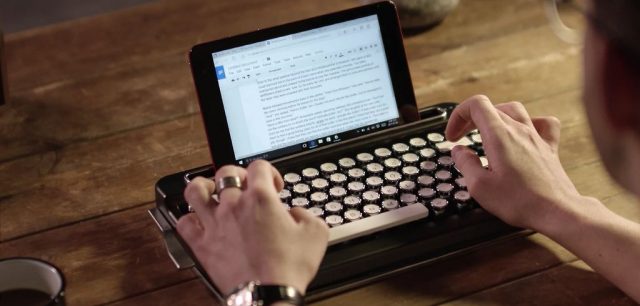 The design of the Penna keyboard is beautiful and smart: anyone who has ever used (or even seen) a mechanical typewriter will instantly recognize that Penna is a writing tool. The Penna even has the handle that was used in mechanical typewriters to shift the paper to the beginning of the next line. The handle has another function in Penna: it is used for shortcuts.
In addition to the overall retro design of the product, Elretron says they carefully designed the feel of the keys and the contact they make with the unit. Company's web pages explain all the details, but it is possible to order a Penna with different types of keycaps and key sounds. The difference in sounds results from different types of mechanical switches that connect the keys to the unit.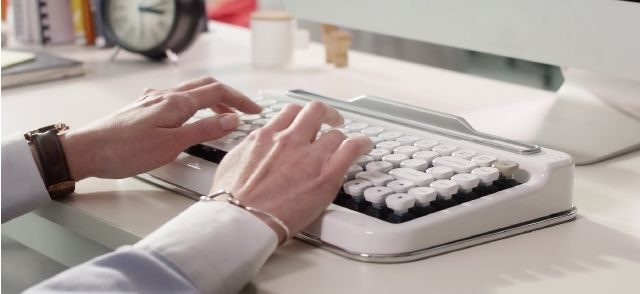 The Penna has a slot where you can fit a 10-inch size tablet in landscape position. Larger tablets than that must be held in portrait mode. There are no mechanical ports or connectors from Penna to a tablet, phone, or computer, because the information is transferred wirelessly over a Bluetooth connection. Elretron says the keyboard is compatible with Windows, Android and Apple iOS operating systems.
The keyboard is powered by two AA-size batteries. Battery life depends on the usage frequency, but in standby mode the batteries should last for six months.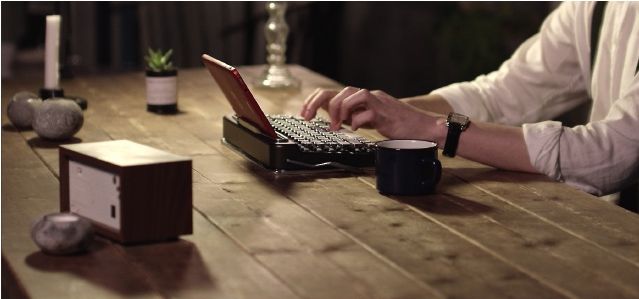 Elretron will start product deliveries in August 2017, even though it is still in Kickstarter. The funding goal has already been achieved, so we should see the Penna in the wild soon. At the moment, the product can be ordered for $99.
Promo video:

---
[email-subscribers namefield="YES" desc="Subscribe to our newsletter on ebooks, writing and photography:" group="Public"]