Avid readers who love to turn ebook pages on their ereaders, rarely give much thought about the inner workings of the electronic device that is storing their books. Nonetheless, a Kindle, Nook, Kobo, or any other reading device really is a computer. It is not a powerful or advanced computer, but nonetheless, it is a computer – specifically designed for ebooks. Let's take a look what's inside the Kindle Voyage ereader.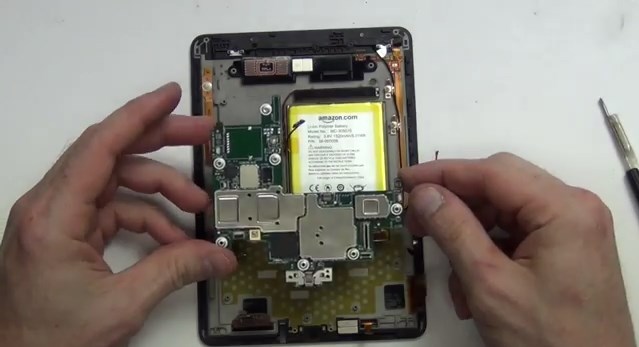 The technician on the video first removes tiny cables attached to the motherboard. The integrated motherboard in this device is both the brains and the memory of the device. A processor on the motherboard executes all the commands and communicates with the display, wireless networks and storage unit. Yellow component is the battery.
This is how a disassembled Kindle Voyage looks like:
Video by PowerbookMedic.