When you read an ebook on an ereader, smartphone, or tablet, you need one hand to hold the device and often, the other hand is required to control the device. Unless you have a dedicated stand for your device, and you want to leave both hands free, you have a problem. That's where the wristphone Rufus Cuff may help.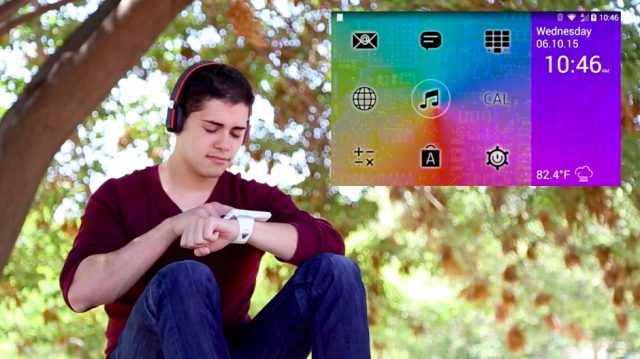 The Rufus Cuff is a small smartphone designed to be strapped on a wrist. It is not smartwatch, but a much larger, more powerful, phone-like device. Rufus Labs calls the Rufus Cuff a Wrist Communicator, but in essence, it is a small Android phone that is always with you on your wrist.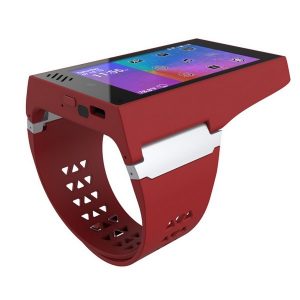 The product is not available in stores yet, but some reporters have had an opportunity to test it. Engadget's reporter wasn't impressed. He didn't like to wear a bulky electronic device on his wrist. The display quality, camera and overall features don't match the features of ordinary smartphones.
Reading a whole book on Rufus Cuff's low quality 3.2-inch screen may not be enjoyable, but reading a couple of minutes while waiting at a tube station or at a lobby of a bank is probably what we would do with it.
The Rufus Cuff runs on Android operating system, which means that plenty of applications is available for the device (all Android apps won't run on the wristphone). Rufus Labs sees enterprises the primary market for the product. Hotels and restaurants, delivery and courier companies have already indicated interest in the product. The product is priced at $300 which is reasonable compared to, for instance, many smartwatches.
Here is a promo video of the wristphone by Rufus Labs:
Would you wear a wristphone? We wouldn't – not yet. Wearable computing is taking its first baby steps. New concepts and new products are continuously tested. That's how every new technology is being developed. It takes time and patience to get it right so that the mass market really wants it. Smartwatches, like the Apple Watch haven't been able to break through to mass markets yet. The Rufus Cuff has some work to do before it can get even to that position.
Key features and technical specifications
3.2 inch TFT Touchscreen
TI Cortex A9 Processor
Android 4.4
Wi-Fi 802.11 b/g/n
Bluetooth 4.0
GPS
Speaker
Dual Microphones
Front-facing Video Camera
16/32/64GB Storage
LED Alerts & Flash
Spill & Splash Resistant