Many, many people dream of traveling and working on the go. It is easy to find thousands of blogs of digital nomads who roam the earth, staying in one place as long as they like (or a project requires) and working as freelancer programmers, designers, writers, or do any other work that can easily be outsourced and doesn't require physical presence.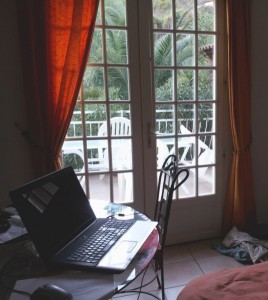 We have tried the nomad life and work ourselves in Europe, and we can confirm it is a tough, but exciting way of life. The first major obstacles in a new destination are finding a place to stay, securing a reliable 24/7 Internet connection, and figuring out how to move around in the region.
Since the number of digital nomads are rising, and many are heading to same cities where life is convenient and living costs reasonable, new businesses are emerging that are serving this rather unique customer segment. Here are a few new startups that can help nomads.
Nomad List. An interactive online service that lets you search for destinations based on wide range of attributes, like climate, cost of living, nightlife, and outdoors activities.
Surf Office. At the moment, Surf Office operates in Lisbon, Portugal and Gran Canaria, Spain. The concept is to provide workspace and accommodation for nomads in attractive locations. Surf Office has discovered the major headaches every traveler has when moving into a new location, and is trying to cure those headaches. Great idea.
Roam. A new startup business that, at the moment of writing this, only has one location in operation in Ubud, Bali. Preparations for opening spaces in Miami, Buenos Aires, Lisbon, and Kyoto are ongoing. Roam's concept is to charge a fixed monthly fee ($1600) that gives you a private room to live in and communal workspace. You can book yourself into any location for the same monthly subscription fee.
Nomad House. Nomad life tends to be lonely life in a sense that you don't meet your friends or relatives. You will meet plenty of people, but developing deep friendships is difficult if you stay for a couple of weeks or months in one place. That's where Nomad House comes in. It is a place for travelers who want to live and work in a community. Current spaces are in Berlin, Bali, Bangkok, Siem Reap, and Javea (Alicante, Spain).
Via TNW.