Ten years ago, Stephen Parliament traveled and worked in Mongolia, but only recently, he had the time to write a book about his experiences in remote nomad settlements, in Gobi desert and life in the capital Ulaanbaatar.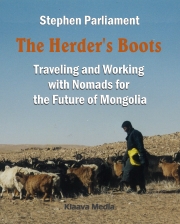 The Herder's Boots – Traveling and Working with Nomads for the Future of Mongolia includes fascinating stories about life, culture, nature and work in Mongolia. Here is an interview with the author where he highlights his strongest memories of Mongolia and the biggest development steps taken in the country during the last few years.
You have authored a book about a country that rarely makes it to the world news today, but used to rule a large part of the known world hundreds of years ago. What are the unique features of Mongolia today?
People, land and animals as a whole. Mongolia is a unity. I think of them with love and admiration for their understanding of the land, and for their connection with their animals. As one animal dies – and millions have died since I have become familiar with Mongolia – a bit of each person dies also. As one is born, so is a herder.
Mongolia is the largest piece of land in the world that is owned communally. It should be a model for our future. No one owns the earth. We all do.
You tell many enchanting stories about trips you made to herder settlements in remote places. Which one of these travels you can still hear, see and taste?
I can't answer that without crying. I can smell camel dung burning in the stove at the center of the ger on a morning so cold that piss freezes before it hits the ground. The sound of the wind at night flapping the hides on the outside of the ger is a rhythm that both keeps you awake and puts you to sleep at the same time. Looking at the Gobi Desert with a horizon so far away that the curve of the earth prevents you from seeing it.
And the taste of fermented horse milk, which at first I could not keep down, is a delicacy that will never be forgotten.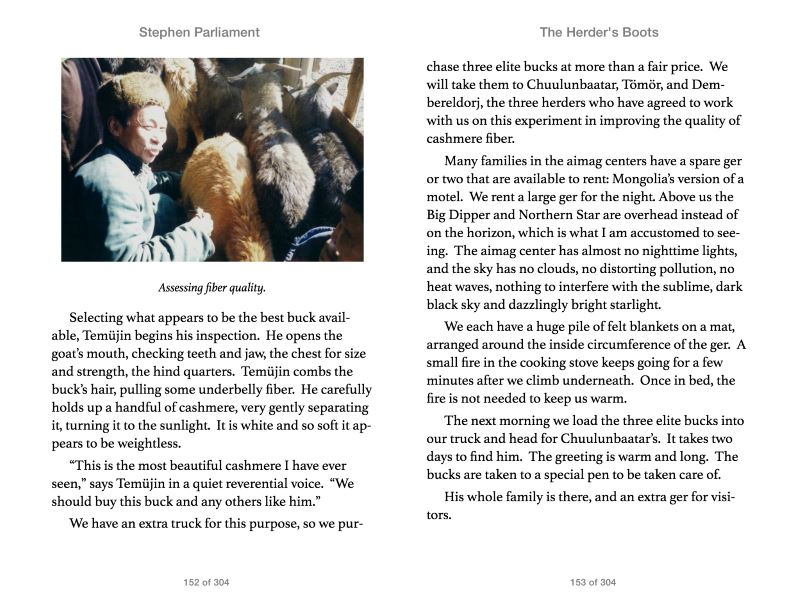 Image from the book The Herder's Boots
What is the biggest culture shock for a Western person visiting Mongolia?
Of course the food, landscape, living quarters, dress and customs are different, but I expected that. The shock is how totally and completely modern, knowledgeable, and on top of their game are the people. My favorite story in the book and the story about which the book is titled is the delivery of my handmade herder's boots. I can put them on, but I can never wear them nor even fill them.
My story is about an ancient people who, as you say, once ruled the entire known world, and who have since receded into oblivion. My shock is that they have an absolutely clear sense of themselves, their power, resources, and what they need to do in the world. Sure, I and the people I worked with introduced some ideas about cooperative markets and veterinary medicines, but what I learned was about how much they know about their own culture and how it will fit into the modern world.
To put it more simply: Mongolian culture is as strong as ever.
Have the living conditions of Mongolia's nomadic population improved since you collected material for your book?
Yes. Many herders are forming cooperative associations to more positively control the use of the land, and to obtain a better price for their goods. When I first started working there, fiber and other products of the nomads were often sold far below their inherent value. That has changed.
The herders are looking to indigenous processers in UB to purchase their fiber, but the markets are still manipulated to their disadvantage. What is needed is described in Part II of the book: more cooperative enterprises among the herders, and technological incubators throughout the country to stimulate local businesses. As one of the people interviewed in Part II says, language education is the foundation of progress for both herders and new entrepreneurs.
So, things are improving for the herders, but a new level of technology and education is the next step.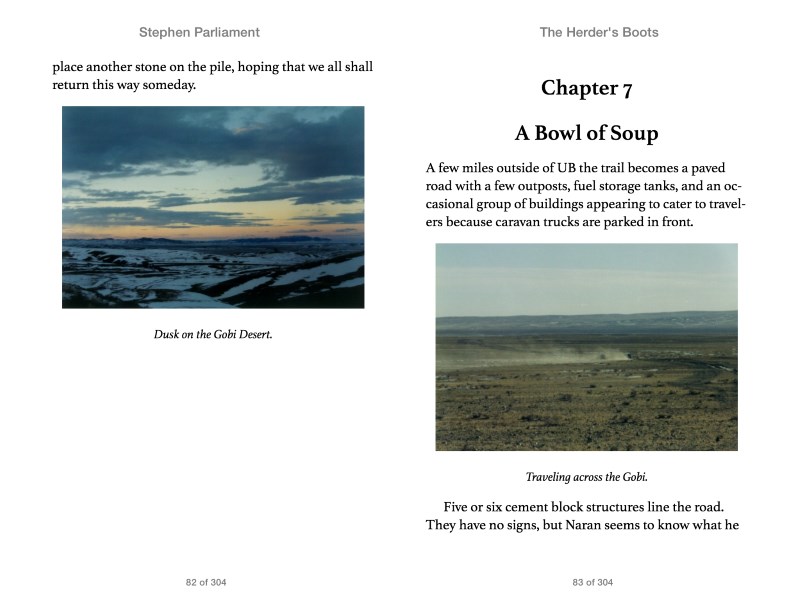 Image from the book The Herder's Boots
What are your favorite non-fiction books?
It is easier to talk about writers than individual books, but I do have favorites. For exquisite language, cultural observation, danger and romance, I am captivated by the third installment of Patrick Leigh Fermor's trek across Europe beginning in 1933 through WWII: The Broken Road: From the Iron Gate to Mount Athos, John Murray Publishers, a Hachette UK Company and subsequently by The New York Review of Books, 2013. He took notes as he walked, but did not start writing until 40 years later when he published A Time of Gifts in 1977 and Between the Woods and the Water in 1986. The last volume was not finished in his lifetime, so it is a credit to the ingenuity and respect for accurate representation of the editors.
A book of extraordinary inspiration for the beauty of desolation is Bruce Chatwin's The Songlines. Set in the outback of Central Australia, this story of wandering and not knowing where you are, but not feeling lost, because your partner has a sense of place, is the direct inspiration for the first chapter of my book on travelling in the Gobi Desert. I could also select his In Patagonia. Chatwin's vocabulary and knowledge is profound.
Peter Matthiessen's philosophical and solemn ode to The Tree Where Man Was Born, 1972 by The New Yorker and 1983 by E. P. Dutton finds both the origins of life in the Serengeti Plain and a resignation that we may be witnessing the obliteration of man by our own hand.
At the opening of his great book, Matthiessen says, "The tree where man was born, according to the Nuer, still stood within man's memory in the west part of the south Sudan, and I imagine a great baobab thrust up like an old root of life…and a wild man in naked silhouette against the first blue sky. That bodeful man of silence and the past is everywhere in Africa. One hears the silence, hears one's step, and stops…and he is there." At the end he says, "Today young baobab are killed by fires, set by strangers who clear the country for their herds and gardens, and the tree where man was born is dying out." Matthiessen's work is a description of the balance of humans living in nature. In 1970 he began to see the end coming.
Elizabeth Kolbert gently and then forcefully tells us that we are in fact killing ourselves with our own hand. The Sixth Extinction: An Unnatural History, Henry Holt and Co., 2014, is the account of our actions that are causing the greatest extinction of life that the earth has experienced. Humans, she says, can be destructive, but they also can be "forward-thinking and altruistic." Which course shall we take, or is it already too late?
These writers have all influenced by appreciation for the tension among human life, animal life and the future of our land and water. I hope that I have captured some of that appreciation in my book.
As a teacher and an instructor to future teachers I read Paulo Freire because he believes that teaching is fundamentally a political act. His reputation began with Pedagogy of the Oppressed in 1968, 1970 and 2000 and continues with many titles thereafter. His brief and critically important statement that Teachers are Cultural Workers: Letters to those who dare teach, Westview, 1998, is a synopsis of his belief that education is a political act, and that freedom comes through pedagogy of liberation that teachers must not fear.
Do these writers share a common genre?
I find these writers share a restlessness about our world. It is more than curiosity. A scientist can be brilliantly curious while confined to a lab or sitting in front of a computer, but these writers must move around, see the world, and experience it. Me too. That is what I like about them.