Rovaniemi
Rovaniemi is the capital of Finnish Lapland both administratively and for business. More than 60 000 people live in city that has a fairly modern center.
During the last few decades, Rovaniemi has developed into an international tourist destination. It is a convenient place to experience a piece of Lapland, the Arctic Circle and Santa Claus with all the services of a city. The international airport of Rovaniemi receives tourists from across the world and charter buses take them on tours to nearby attractions. Choices for hotels, restaurants and shopping are good in Rovaniemi, and everything a tourist typically needs is within a walking distance in the city center.
At the junction of two major rivers, Ounasjoki and Kemijoki, Rovaniemi has been inhabited for centuries, but the town was destroyed inWorld War II. Architect Alvar Aalto was invited to plan the rebuilding of the town center after the war. Reportedly, Aalto had an image of a reindeer in his mind when he created the layout for the town center. Two branches of the town's central park stand for reindeer horns, two represent its head and one reindeer's back. Alvar Aalto has also designed several key buildings in Rovaniemi.
Sights in Rovaniemi
Arctic Circle
The Arctic Circle passes through Rovaniemi 8 km/5 miles north of city center. The place has the best address ever: Arctic Circle, Rovaniemi. Santa Claus Village – shops, cafés, Santa's Post Office, souvenirs – has been built on the site where the Arctic Circle meets the major road E75.
It is a feverishly photographed moment when tourists take the magic step over the Circle. In the village center, a line on the ground indicates exactly where the Arctic Circle is.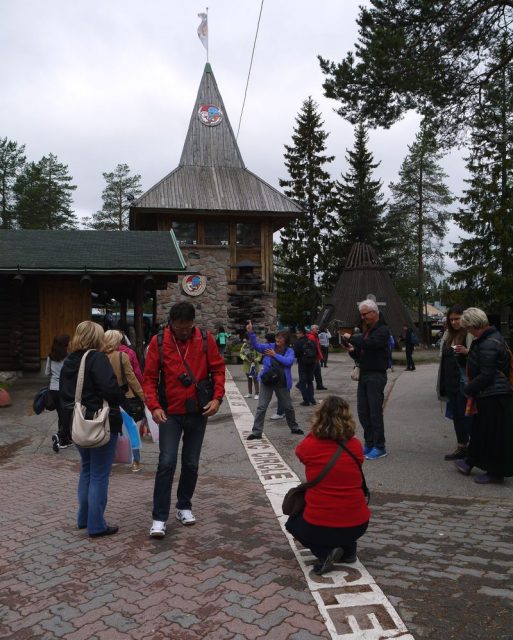 Arktikum
The impressive Arktikum house features many attractions: a museum of Lapland, Arctic exhibit, theater of Northern Lights, a library, guide services, a café, a shop and conference facilities. For an accidental visitor, the most interesting places to visit are the museum, the exhibits and the show in the Northern Lights Theater. Arktikum is open daily year round between 10 am and 6 pm, except for Mondays when it is closed. The address is Pohjoisranta 4. Home page: www.arktikum.fi/EN/home.html.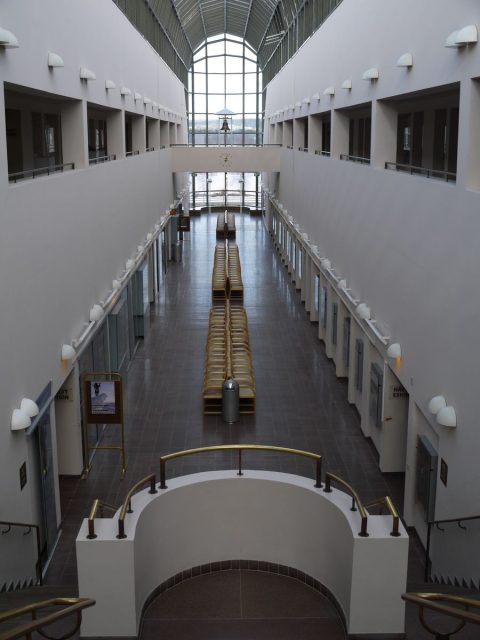 Designed by Alvar Aalto
Alvar Aalto not only created the layout of the new town center, but he also designed several buildings for the city. The first four buildings listed below are within walking distance in the town center, but Korkalorinne is a suburb a couple of kilometers/ miles away from the center.
Lappia Hall, home of the municipal theater, as well as a concert and congress hall.
Library.
Town Hall. Lappia, Library and Town Hall are side by side on Hallituskatu. They are public buildings, so you can take a look inside as well.
Buildings for the Aho Family (Koskikatu 18, 20 and Jaakonkatu 3).
Korkalorinne Residential Area.
Lapland
Lappia Hall.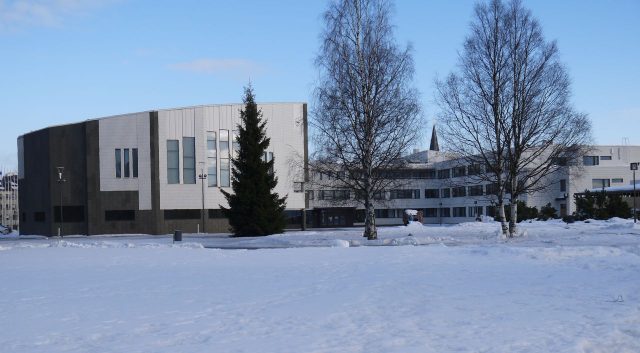 Rovaniemi Library.
Korundi
Korundi is a house of culture that is home for two institutions: Rovaniemi Art Museum and Chamber Orchestra. The Rovaniemi Art Museum's collection consists of modern Finnish art from 1940 to present day. The museum's exhibits also feature international art.
The Rovaniemi Chamber Orchestra has a concert hall in the Korundi building.
The opening hours of Korundi are 11 am – 6 pm. Closed on Mondays. The address is Lapinkävijäntie 4. Home page: www.korundi.fi/en/Home.
Marketplace
In Finnish folklore, the Rovaniemi marketplace is a legendary site for trade and entertainment. Today, it is a marketplace where local people come to spend some time and perhaps get a cup of coffee and a hot dog. Tourists can find souvenirs from Lapland, like hats, knives, gloves, and decorative items. The marketplace is located at the corner of Kairatie and Lapinkävijäntie. Before heading to the market, check its status with locals because the market is not regularly open.
Ounasvaara
Ounasvaara is a hill that can be seen from the city center on the other side of Kemijoki River. It is possible to drive almost to the top of the hill where a view to the town, rivers, bridges and the surrounding landscape opens up. Many facilities for sports and outdoor activities are available at Ounasvaara: golf, downhill skiing, ski jumping, and a sports center Santa Sport (santasport.fi/en) that features a spa, an adventure park, a bowling alley and many other activities.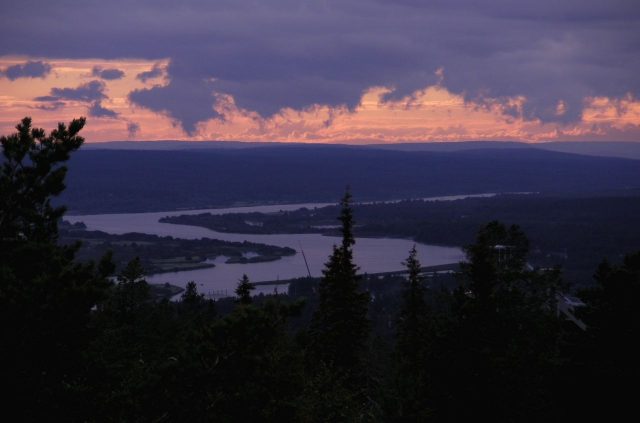 View from the top of Ounasvaara.
Ranua Zoo
If you want to be sure you get to see the big and small wild animals of the north, your best bet is to visit the Ranua Zoo. The zoo specializes in Arctic animals. The big species have ample space to move around (and also hide) in their compartments. Bears, wolves, wolverines, lynx, elk, owls, and many other species that thrive in Lapland live in the zoo.
Ranua Zoo is located 80 km/50 miles south of Rovaniemi in Ranua village at Rovaniementie 29. It is open year round: during September-May opening hours are 10 am-4 pm and during June-August 9 am-7 pm. The zoo's homepage www.ranuazoo.com/English/Summer/Front-page.
Santa Claus Village
Santa Claus Village is not Santa's original home, but according to trustworthy sources, it is located further north on a fell called Korvatunturi. Santa himself has said that he wanted to keep his true home a secret place and moved to Rovaniemi in order to be with people all year round. Now, you can meet Santa at the Santa Claus Village. It is a commercial center where shops, restaurants, outlets and restaurants swarm with customers. The Village is located 8 km/5 miles north of Rovaniemi on the Arctic Circle. Homepage: www.santaclausvillage.info.