Glow of the North – So were born the seasons and magic of the North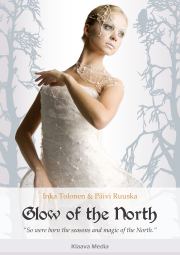 UNAVAILABLE
Authors: Inka Tolonen and Päivi Ruuska
Publisher: Klaava Media
Published: August 2015
ISBN:
978-952-7074-44-2 (Amazon Kindle)
978-952-7074-43-5 (PDF)
Glow of the North is an artwork about the mystical magic of the seasons of the North created by artists from different fields.
The visual and verbal story of this beautiful art book describes how the Spirit of the Snowflakes, Daughter of the Dark, Children of the Light, Autumn Lady, Red Wing, Silver Butterfly, and Frost Princess in turns take over the delicate nature of the North until the moment when the eternal rhythm and magic that lies in the seasons has been born.
In addition to the book's author Inka Tolonen and costume and textile artist Päivi Ruuska, Riina Laine, make-up artist and world champion 2014 in body painting and Elina Miettinen, performer in the American Ballet Theatre with several others representing the top class of their own field, have contributed to the making of the book.
Artists who contributed to the book
Text, project manager: Inka Tolonen
Costumes, jewellery, textiles: Päivi Ruuska
English translation: Aino Huotari and Roger Nöel Smith
Cover design by Tanja Pulliainen
Layout: Tanja Pulliainen, Inka Tolonen
Photographers: Veli-Veikko Elomaa, Tuomas Eerola
Make-up artists, hairdressing: Riina Laine, Piia Hiltunen, Reta Syla, Veera Huttunen, Anette Perkiömäki, Roosa Soulanto
Make-up: MakeUp Store
Models: Elina Miettinen, Carita Nenonen, Reta Syla, Nina Luostarinen, Kersti Kivi, Marica Kiviniemi, Tea Kangas, Milad Taddayon
Language support: Taina Hollo
Acknowledgements: Riikka Tikkanen and Johanna Juuti-Suutari
The Sunbeam -brocade fabric for the Child of Light's dress has been manufactured by Heli Tuominen, Wetterhoff textile workshop. Design by Päivi Ruuska.
The JewelStone-silver jewel manufactured in Thailand silver village. Design by Päivi Ruuska.