Finnish Cookbook with Modern Flavors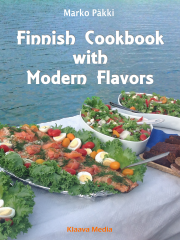 UNAVAILABLE at the moment.
Author: Marko Päkki
Published: March 2016
Publisher: Klaava
ISBN:
978-952-7074-63-3 (Amazon PDF)
978-952-7074-62-6 (PDF)
Traditional Finnish meals were prepared from simple ingredients that small farms were able to provide to the residents of this Nordic country. Modern era has introduced many new ingredients to Finnish kitchens where new generations of chefs and home cooks apply new flavors to traditional recipes. The author of Finnish Cookbook with Modern Flavors has taken the traditional Finnish food as a starting point and developed new wonderful flavors that appeal to all friends of hearty home cooking.
Learn how to cook delicious meals from salmon, mushrooms, meat, herring or pasta, or prepare a beetroot salad with freshly baked country bread.
Finnish Cookbook with Modern Flavors is actually two books in one: it can be used as a guide for preparing traditional meals and as a handbook to contemporary home cooking the Scandinavian way.
View sample pages
You can browse sample pages here.
Contents
Recipes introduced in the book include, for instance:
Traditional Baltic Herring Fillet Steak
Chanterelle Bacon Pie
Karelian Stew
Minced Meat Casserole
Rainbow Trout with Fruit Salsa
Christmas Mustard
Beetroot Salad
Macaroni Casserole
Italian Salad
Common Bread
Country Potatoes
Tiger Cake
Pancake in Oven
Lingonberry and Blueberry Pie
Aunt Hanna's Cookies