Creo Parametric Modeling, Milling, Basic Turning, Mill-Turn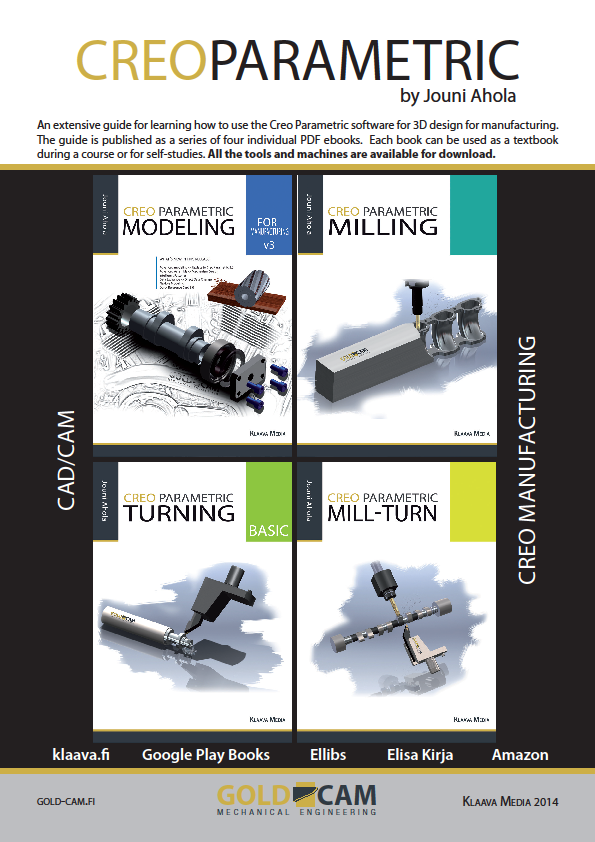 UNAVAILABLE at the moment.
Author: Jouni Ahola
Publisher: Klaava
Published: March 2014, updated in February 2015
Format: PDF and Amazon Kindle Print Replica
An extensive guide for learning how to use the Creo Parametric software for 3D design for manufacturing. Design for manufacturability, DFM, is a product design method that enables efficient manufacturing of products. The guide is published as a series of four individual PDF ebooks.
Each book can be used as a textbook during a course or for self-studies. All the templates, formats, sheets and parts showed in each book are available for download. Download links can be found inside the books.
The book series consists of the following four parts:
Creo Parametric Modeling for Manufacturing
ISBN 978-952-5901-87-0 (PDF)
ISBN 978-952-7074-11-4 (Amazon)
The book covers Creo Parametric user interface and solid modeling. The models created in this book are used in other books of the series.
Creo Parametric Milling
ISBN 978-952-5901-88-7 (PDF)
ISBN 978-952-7074-31-2 (Amazon)
The book focuses on milling machining with vertical machining center, as well as basic milling and 3-axis surface milling.
Creo Parametric Basic Turning
ISBN 978-952-5901-89-4 (PDF)
ISBN 978-952-7074-32-9 (Amazon)
The book covers basic turning machining and slant type lathe with ZX-coordinate system.
Creo Parametric Mill-Turn
ISBN 978-952-5901-90-0 (PDF)
ISBN 978-952-7074-33-6 (Amazon)
The book guides the reader through turning machining with Live Tools and combined milling and turning manufacturing.
The author can be contacted via Gold-Cam home page.