Celebrating Finland 100 – The world's funniest and most entertaining Finnish guidebook: culture, people, places and etiquette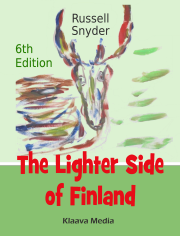 UNAVAILABLE at the moment
Author: Russell Snyder
Publisher: Klaava
Published: February 2017
ISBN:
978-952-7074-78-7 (Amazon Kindle)
978-952-7074-80-0 (Apple devices)
978-952-7074-79-4 (EPUB)
The Lighter Side of Finland is celebrating its 22nd anniversary. The idea was to examine the Finnish culture and society through humor and facts. We believe this idea was a success, so every few years the book has been updated and revised to keep up with an ever-changing Finland.
Finland is celebrating its 100-year anniversary of becoming an independent nation. It was a long, difficult struggle to achieve freedom, but it finally came in 1917. During the years that followed, the new country faced problems, threats and downfalls. It also observed times of development, progress and prosperity. And now, Finland has been acclaimed by researchers and journalists as an excellent place to live, work, do business and raise a family.
We hope the 6th edition of The Lighter Side of Finland will bring you laughter, entertainment and enlightenment.
Reviews
Amazon: 5 out of 5 stars (for the previous edition).
Goodreads: 91% of readers liked the book.
Author Interviews
Fontanka: Светлая сторона Финляндии глазами американца
Klaava: How to survive in Finland as an American author
Table of Contents
Finland Short and Sweet
That's History
An Economy Report
Dealing with Chemicals
The Slush Movement
Getting Down to Business
Meet the Sinisalos
Money Grows on Trees
Everyman's Right
Being Good Sports
On the Go in Summer
On the Go in Winter
Sauna Disciples
Helsinki Chronicles
The Bike Ride
Karelian Seurasaari
Getting Around
Beyond Helsinki
Life on an Island
Way Up North
A Break
Going Fishing
Food for Thought
Firewater
The Wordsmiths
The Finnish Way of Learning
Happy Holidays
The Longest Day
Playing Politics
Music to Finnish Ears
Time for a Festival
Sailing West
Out for a Drive
Finland's Heritage
The Northern SuperstarLearn Finnish in a Few Minutes