The Best of Pattaya, Thailand and the Essentials of Thai Culture – Klaava Travel Guide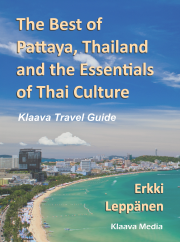 This title is not available anymore
Author: Erkki Leppänen
Publisher: Klaava Media
Published: September 2015
ISBN:
978-952-7074-40-4 (Apple iBooks)
978-952-7074-38-1 (Amazon Kindle)
978-952-7074-39-8 (EPUB)
One of Asian's most popular travel destinations Pattaya, Thailand is an international vacation resort where people from all over the world enjoy the sun, the sea and the beaches. In addition to lively nightlife, these three elements are the key attractions of Pattaya. This guidebook also includes a unique selection of hand-picked tips for visitors who want to experience more. The book shows readers the places to visit in the region, the activities to plunge into, the food to taste, and the markets to shop.
Many visitors fall in love with local food and gentle, smiling Thai people who, among other things, love their King and motorcycles. A visitor who is new to the Thai culture, however, may easily embarrass herself, and even worse, local people if he or she is not familiar with Thai customs. The book explains the essential cultural elements that every visitor should be aware of when traveling in Thailand.
The Best of Pattaya, Thailand and the Essentials of Thai Culture consists of three main sections: where to go and what to do, introduction to the local culture and customs, and practical information on hotels, food, shopping, and transportation. The book is easy to read and digest: in addition to textual information, a large selection of photographs and video films provide visual information on the destination.
Purchase ebook
The title is unavailable at the moment.