The Best of Helsinki: The Sights, Activities, and Local Favorites – Klaava Travel Guide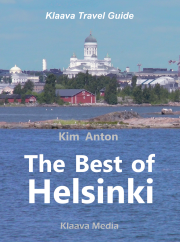 NOTE: The Second Edition of the travel guide has replaced this edition.
Author: Kim Anton
Published: March 2016
Publisher: Klaava
ISBN:
978-952-7074-56-5 (Amazon Kindle)
978-952-7074-58-9 (Apple iBooks)
978-952-7074-57-2 (EPUB)
The Best of Helsinki introduces travelers to the key sights of Helsinki, activities that can be as exotic as the unique culture of this Nordic country, and local favorites that include events, places and tastes that few foreigners know about. The book is a visual guide to the city, featuring plenty of maps and photographs for tour planning, for quickly absorbing the elemental information about the key places, and for navigating the city.
Helsinki, the capital of Finland, is located by the sea, and surrounded by a geographically large, but scarcely inhabited country that leaves plenty of space for wild forests and clear water lakes. The metropolitan area is home for 1.3 million people, but the city itself is relatively compact and easy to explore on your own. Helsinki is a modern Scandinavian city dominated by the country's unique culture between the east and the west, Nordic architecture, buzzing nightlife and bustling business.
The Best of Helsinki provides valuable tourist information for the destination, and cultural tips from local people that help to make travelers' stay in the city enjoyable.
Purchase the book
The Second Edition of The Best of Helsinki is available in all major bookstores.
Contents
Introduction
Helsinki in a Nutshell
Getting Around
Essential Tips for Tourists
Top 10 Destinations to Visit
Top 10 Places and Events Local People Love
More Places to Visit and Things to Do
Sauna Etiquette
Destinations near Helsinki
Activities
Events
Museums
Accommodations
Restaurants
Bars, Pubs, and Nightclubs
Shopping
Practical Information
A Brief History of Helsinki
Facts about Finland
More than 150 photographs and plenty of maps included in the book.
---