Google Pixel C is not the first tablet the company has introduced, but it is the first one that comes with a keyboard. The tablet display is 10.2 inches in size. It is a high density, high resolution (2560×1700) display. The keyboard and tablet are not mechanically connected, but the Pixel C becomes a laptop-like computer when the display is attached to a specific place on the keyboard. Strong magnets hold the units together. A 10-inch tablet with a keyboard: is it a good idea readers and writers?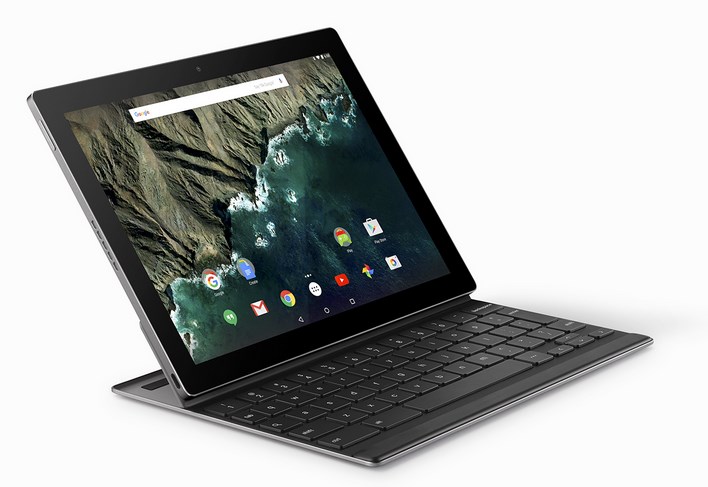 The Google Pixel C comes in two configurations: 32GB model is priced at $499 and 64GB $599. The keyboard costs $149 extra.
Reading ebooks on a high-resolution, high-quality tablet that has large screen is an experience we love. If we can get a tablet like that for $499, it is worth serious consideration.
Typing long texts on a 10-inch tablet that has a keyboard of the same size isn't a tempting idea. Although many function keys have been removed from the Pixel C keyboard, it is still very small. And the price: $149. Come on, it is only a keyboard, even if it comes with magnets.
We have successfully used a configuration where we have a battery-powered almost full-size keyboard ($30 at an electronics store) connected via Bluetooth to a 10-inch tablet. It works fine.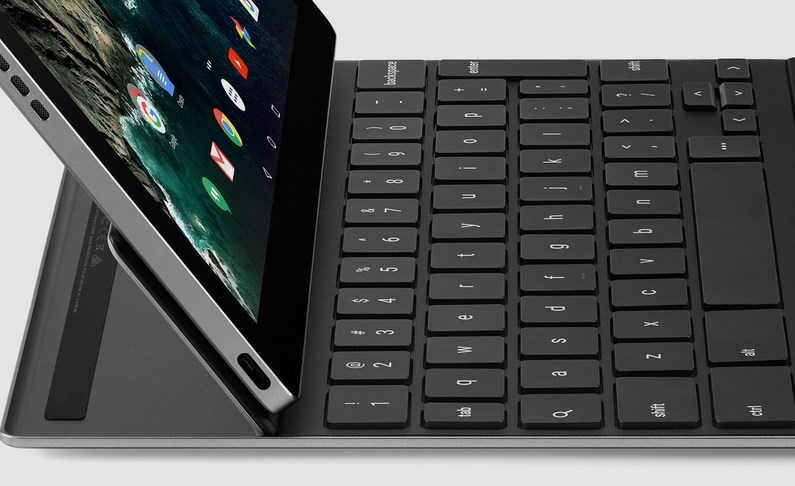 The Google Pixel C is powered by Android 6.0 operating system software. Version 6 of the world's most popular operating system provides incremental improvements over version 5 – no earth-shaking new features.
Apple iPad Pro is significantly larger (and pricier) than the Pixel C, and has a special keyboard available as well. Read an analysis of the iPad Pro here.
View a hands-on video of the Google Pixel C tablet by Digital Trends:
Google Pixel C key features and technical specifications
– Android 6.0 operating system software.
– 10.2 inch touch screen display with 3:2 aspect ratio.
– Resolution 2560 x 1700 pixels, at 239 PPI
– 400 nit brightness, 178° viewing angle.
– Intel HD Graphics 5500 (Integrated)
– 4K video output over DisplayPort or HDMI with optional Type-C video adapter cable
– Intel Core i5 processor, 2.2GHz, 8GB memory or Intel Core i7 processor, 2.4GHz, 16GB memory.
– 2 USB Type-C connectors.
– 2 USB 3.0 Standard A connectors.
– microSD memory card slot.
– 720P wide angle video camera with blue glass
– 32GB or 64GB of flash storage, depending on model.
– Wi-Fi 802.11ac (supports a/b/g/n/ac), 2.4 and 5GHz, 2×2 spatial streams
– Bluetooth 4.0
– Stereo speakers
– Built-in microphone, and headphone/microphone combo
– USB Type-C Charger, 60W
– Up to 12 hours of battery life.
– Dimensions 11.7 x 8.8 x 0.6 inches (297.7mm x 224.55mm x 15.3mm)
– Weight 3.3lbs (1.5Kg)