For quite some time, the price range of 150-199 has been the level where it is possible to find 10-inch tablets from major manufacturers. Since it is the lowest price point for 10-inch devices, tablets often lack features or have too restricted resources. Amazon, however, has managed to create a 10-inch tablet that has every key feature in place at $149 price point.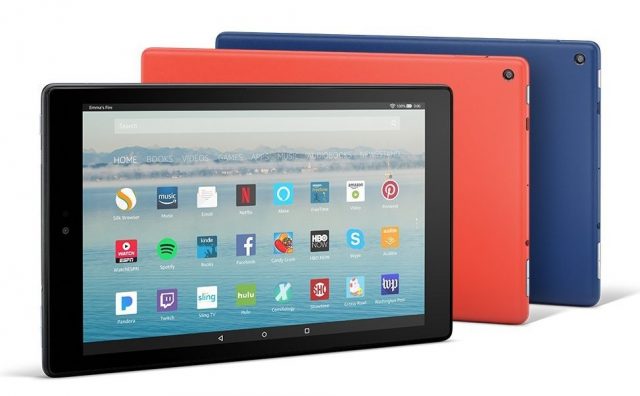 The Fire HD 10 tablet, its October 2017 edition, is an improved, upgraded version of earlier models. This one is a complete product that makes you wonder why pay more for an Android tablet or even more for an Apple iPad?
The bottleneck of low-cost tablets (and phones) is often too small RAM memory size, very limited storage space, low-resolution screen, and so-so camera. The Fire HD10 avoids these problems and still manages to keep the price low.
The Fire HD 10 comes with 2 GB of RAM memory which is fine for Android based devices. Also the amount of storage space 32 GB is sufficient. The 10.1-inch display has high resolution 1920 x 1200 pixels which makes dot density of 224 ppi. It is a nice display for reading ebooks, and of course, for watching movies and tv shows. The cameras on the Fire HD 10 are something that you can forget about, and take photos with your smartphone instead.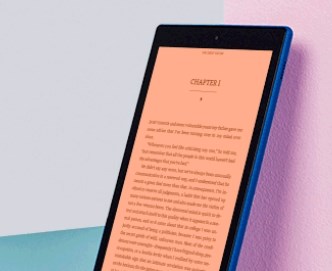 For ebooks, the Fire comes with Blue Shade feature in its reading app. It can automatically adjust and optimize the backlight for comfortable nighttime reading moments.
Alexa voice control system, the brain behind Echo, is a new feature on Fire tablets. You can use your voice to give commands to the tablet. For instance, you can tell Alexa play a video, music, or an audiobooks. It is also possible to ask Alexa questions, see your calendar, get news, and view sports scores. The hands-free mode lets you wake up the tablet (and Alexa) even when the screen is asleep.
Fire HD 10 October 2017 model specifications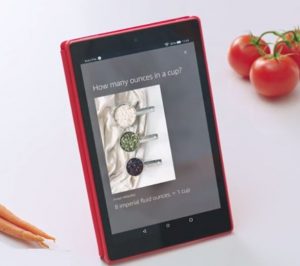 Display 10.1 inches.
Display resolution 1920 x 1200 (224 ppi).
Processor: Quad-core up to 1.8 GHz.
2GB of RAM.
0.3 megapixel front-facing camera, 2 megapixel rear-facing camera with 720p HD video recording.
Dual-band a/b/g/n/ac Wi-Fi.
Location based services via Wi-Fi.
Bluetooth. A2DP compatible stereo headphones can be wirelessly connected.
Storage: 32 or 64 GB (expandable up to 256 GB) + unlimited cloud storage for Amazon content.
MicroSD memory card slot.
Micro B USB port.
Dolby Atmos audio technology, Dual stereo speakers.
3.5 mm stereo headphone jack.
Built-in microphone.
Voice control: Alexa can be used in hands-free mode.
Colors: Black, Marine Blue, Punch Red.
1-year limited warranty.
Weight 17.7 oz (500 grams).
Dimensions 10.3 x 6.3 x 0.4 inches (262 x 159 x 9.8mm).
Battery life: up to 10 hours of reading, surfing the web, watching video, and listening to music.