If you are a writer or a freelancer providing writing-related services, like translation, editing, or proofreading, and you manage your assignments through online services, you know how global the business is. Many other professionals, such as programmers, graphic designers, and photographers also sell their services on global online freelance platforms. If you have ever wondered where these different types of professionals are located, now there is a map for that.
Vili Lehdonvirta at the Oxford Internet Institute has collected data from various online freelancing services, and put together graphs that show where professionals are participating in remote work processes and projects, and in which countries specific type of work is performed.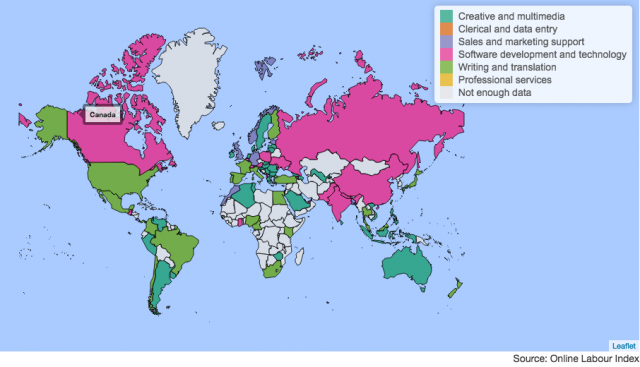 The statistics, titled Online Labour Index, shows which skills regions and countries are providing to the global market. For instance, the most common type of remote work in the United States is writing and translation. Indian subcontinent is a major supplier of software development and technology skills. Europe is divided in north, south and central regions that provide different types of services.
The largest supplier of online labour is the traditional outsourcing destination India, which is home to 24 percent of all the workers observed. India is followed by Bangladesh (16 %) and United States (12 %).
The software development and technology work category is dominated by workers in the Indian subcontinent, who command a 55 percent market share. The professional services category, which consists of services such as accounting, legal services, and business consulting, is led by professionals based in the UK with a 22 percent market share.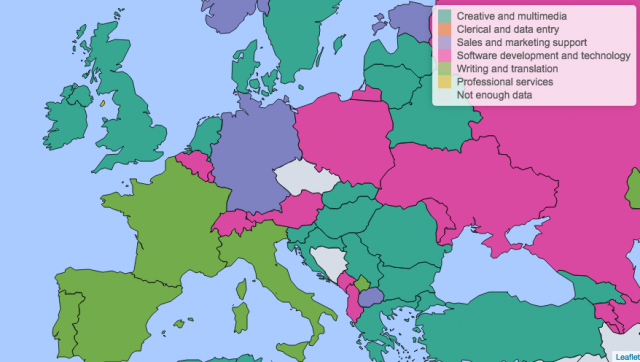 The data for the statistics was collected from four large online professional service trading platforms, also known as online freelancing or online outsourcing platforms: Fiverr, Freelancer, Guru, and PeoplePerHour. They are English-language platforms, meaning that non-English-speaking countries are likely to be underrepresented in the figures. Many freelance service platforms exist in other languages, but English-language platforms are the primary ones in international trade. Internet traffic statistics indicate that the four mentioned sites represent at least 40 percent of the global market for platform-based online work. The figures are likely to give a good indication of the overall market, and particularly which skills regions and countries provide to the global market.
Find out more graphs and data from Vili Lehdonvirta's article at the Unversity of Oxford web site.