Reading books on smartphones has increased along with the rising popularity of mobile devices that have bright, large, and sharp displays. Reading ebooks on a phone or tablet is convenient only if it is easy to download and read long texts on the device. And that is a job for an app. Which app?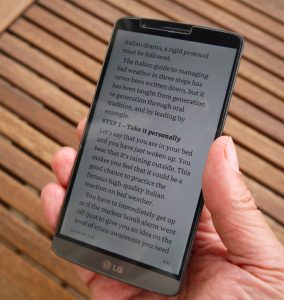 First, we will list most popular reading apps for Android (for instance, Huawei, LG, Samsung, Sony tablets and smartphones ) and Apple (iOS apps that run on iPad and iPhone) devices. Second, we will give a few tips how to choose the app that's best for you.
All the applications can be downloaded fro Apple App Store and Google Play.
The following reading applications can open EPUB ebooks, and some can open HTML, TXT, PDF books and documents as well.
24 Symbols
Aldiko Book Reader
Bluefire Reader
Bookmate
FBReader
Google Play Books
Kobo Books
KyBook (Apple only)
Marvin (Apple only)
Moon+ Reader (Android only)
NeoSoar
Nook
Scribd
Universal Book Reader (Android only)
If you download your ebooks from the Amazon Kindle Store, you must have Amazon Kindle ereader app on your mobile device. Kindle app is available for PCs as well.
Kindle
If you purchase your books from the Apple iBooks Store, you have one choice only: Apple's own ereading app that runs on Mac as well (in addition to the iPad and iPhone).
iBooks
Listening to books instead of reading is convenient on mobile devices as long as you remember to keep a headset with you. You need an app for that as well. Two audiobook services are popular:
Audible
Storytel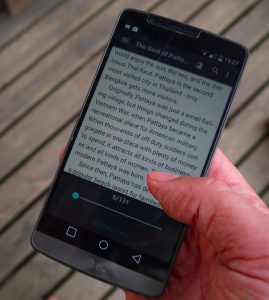 Which ereading app is the best for you?
If you already are buying, or you are going to buy, your ebooks from Amazon Kindle Store, you must install the Kindle app. The same applies to Apple iBooks Store: if it is your bookstore, you must use the iBooks app.
If you are subscribing to a service that lets you read ebooks or listen to audiobooks for a monthly fee, you must use the application provided by the service. This applies to 24 Symbols, Audible, Bookmate, Scribd and Storytel.
Many book lovers purchase their ebooks where they happen to discover them or where they get the best deal. In addition to a must-have app, you should have an ereader application that can open EPUB and PDF books. FBReader may not pretty, but it can open many document formats. Google Play Books and Bluefire Reader are both fine EPUB and PDF reading apps.