Book market statistics provided by publishing organizations are often quoted as the only authoritative numbers that reflect what is going on in the book trade. Many industry analysts have disagreed with these "official" numbers for years saying that they only represent a portion of the market: sales of big publishers. Especially, the emergence of digital books has brought a huge number of small publishers and self-publishers whose book sales is not tallied up in the statistics published by, for instance, AAP, Nielsen, or publishers' associations in Europe.
An analyst who calls himself Data Guy (at Author Earnings) has discovered a way to collect data from ebook sales independent of which organization (or person) has published the title. He has created a system for extracting data from Amazon Kindle Store web pages. Therefore, all the statistics he can provide is from the US. Nonetheless, it is useful reference for ebook authors and publishers across the world because the US is the pioneer and the leading country in ebook business.
In July 2016, Data Guy gave a speech where he presented statistics specifically concerning romance literature ebook market in the US. The included data, however, has many valuable lessons for all authors and ebook publishers. Here are a few highlights from his speech.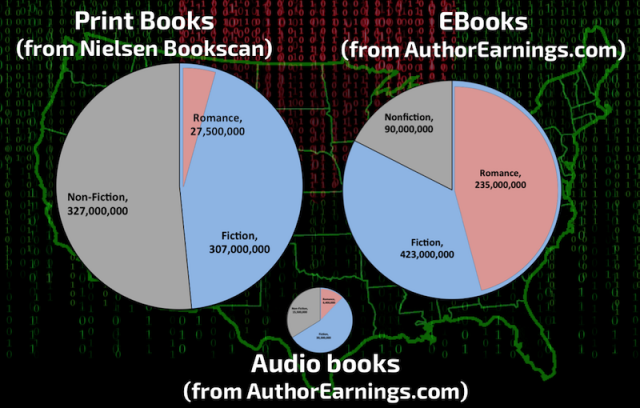 In the US, non-fiction books has slightly over 50% of the print book market, and fiction slightly under 50%. In many European and Asian countries, non-fiction books have way larger market share from the print market. For instance, in Finland non-fiction print books had 35%, text books 35%, fiction 26%, and ebooks less than 4% market share in 2015.
Now, Author Earnings reports that non-fiction ebooks have only 12% market share in the US ebook market. Fiction dominates the ebook market with 88% share, and roughly half of purchased fiction is romance. Although we haven't seen the ebook market in Europe segmented by genre, we believe the overall situation is roughly the same: non-fiction ebooks haven't been adopted as quickly as fiction.
Yet, the potential to introduce something new to new generations of readers is in non-fiction and text books: digital media lets authors and publishers embed more attractive images, animation, photo galleries, interactivity and even moving pictures in books. You can view samples of this in Klaava Travel Guide titles.

In the US, Amazon really dominates the ebook retail sales with 75% of title purchases going through the Kindle Store. Amazon UK has similar, some claim even stronger position, of the national ebook market, but elsewehere in Europe, other stores compete successfully with Amazon. For instance, in Germany Tolino is a major player in the ebook market. In Scandinavia, Adlibris and Storytel are big digital retailers (there is no Amazon store in Scandinavia yet, but Nordic citizens buy from Amazon.com if they want Kindle products).
It is still early days for digital books. The market developed quickly in English-speaking countries, primarily because of romance and crime titles. Fiction ebooks are replicas of print books. The big technical development is still to happen, and non-fiction and text books will drive the development. For instance, Amazon Page Flip is one of the early signs of things to come. It is a marvellous new feature for browsing non-fiction books.