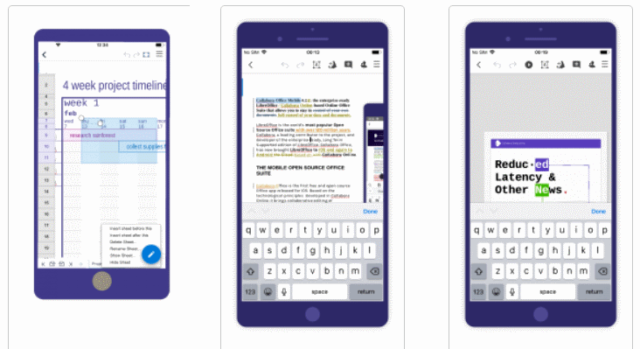 News on ebooks, writing and travel
Take a Look How Europe's Ruined Medieval Castles Come Back to Life
A fascinating project by NeoMam Studios lets you view how a medieval fortress or castle is reconstructed. The work is happening in the digital world only, not on the ground, but the results are so credible and beautiful that I started planning a trip to visit some of these incredible places.
Collabora brings document editing to Android and iOS
Collabora Online is the cloud extension to the popular LibreOffice text document, spreadsheet and presentation app many individuals and organizations are using instead of Microsoft Office. Collabora and LibreOffice are open source products that are fully compatible with Microsoft Office documents. Now, Collabora has developed apps for Android and Apple phones and tablets that allow viewing and editing of office documents.
How to See the World When You're Stuck at Home
Travel shows on television, podcasts recorded by digital nomads, travel guidebooks, novels placed in a location you are interested in, and resources on the internet are all fine sources of entertainment and information about the wonders of the world even when we are stuck at home. The New York Times suggests that Google Street View, a function in Google Maps app, is the best way to explore the world from your home computer.
Travel guide to Nice and the Riviera in southern France
Many traveler is hoping that all travel restrictions are lifted in France by the summer. The world's biggest sports event the Tour of France should start in Nice in late June, although it is still unsure if the race is allowed at all. Nonetheless, we still have time to plan and schedule our itineraries (perhaps for autumn which is an ideal time if you want the best weather with smaller crowds in the Riviera) with the help of a guidebook.
Greg Orme's The Human Edge named book of the year at the Business Book Awards
The timing for the awards happened to be perfect as the people are encouraged or even forced to stay home for weeks because of rapidly expanding pandemic disease. Especially professionals who are working remotely may be interested in business books that have been ranked and reviewed in the annual Business Book Awards program. You can find winners and recommendations for all categories here.
Writer Beware: How to Fight Back When Your Content is Stolen
One of the easiest scams on the internet is to steal content other people have created. Copying a web page, a photo, or an entire ebook is something almost anyone can do. As everyone knows, it is illegal but getting help to fight these criminals can require an effort. This blog post provides excellent tips for hunting down scammers and telling them to stop.
Which countries will be the world's biggest economies in 2050?
The world's biggest economy now and in 2050 is China – not too difficult to assume. In recent years, Chinese visitors already have become the biggest group in many of Europe's biggest tourist attractions. Have I ever met an Indonesian tourist in Europe? Not yet, but I'm sure soon I will.
National Geographic Traveller: Travel Writing Competition 2020
The winner's prize alone is quite valuable in the National Geographic travel writing contest, but in the long run, even more valuable is the exposure for the winner as a writer. Competition closes at the end of June, but it is only open to the residents of the UK and Ireland.