Stuntmen are admired by all movie lovers, but they rarely step into the spotlight and talk about their work. Tung Bui is a Finnish stunt actor and coordinator who has performed in many movies, commercials and in one multimedia book. He is specialized in martial arts and loves to travel. Now, he talks about his film work and travels.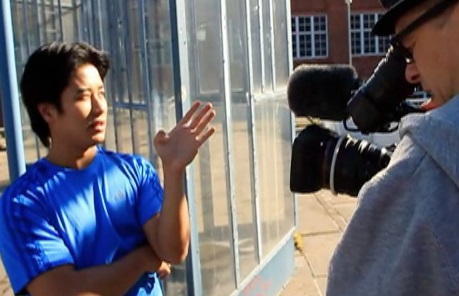 You are the lead character in the video segments produced for the book Stunts, Scenes and Safety. What other film work have you done lately?
I was the fight coordinator in a short film "Maartin", and in a feature film "Look of a Killer" (original title "Tappajan Näköinen Mies") starring Samuli Edelman. The films were directed by Joel Rahkonen, and Lauri Nurkse, respectively. Maartin was broadcast on nationwide television network, and the feature film premiered at cinemas.
Which cities have inspired you in your work as a stunt professional?
1. Taipei, Taiwan
2. Hong Kong, China
3. Paris, France
4. Tromsø, Norway
5. Lisbon, Portugal
Taipei, Taiwan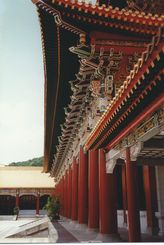 What stuntwork related experiences you have had in the Taipei?
I trained in Taipei with a local Tai Chi master. His skills were superb, but even more impressive was his humility. When he wasn't coaching us, he looked like any other near 70-year old Taiwanese man. Despite his age, he was fast and strong. Only a person with a long background in Oriental martial arts could sense the master's skill level where most people could only see an old gentleman.
His humility reminded me of my work: as stuntmen our main purpose is to make the person who we stunt look as good as possible. We have succeeded when the audience believes the actor did his/her own stunts. We put tremendous amount of time, energy and effort to hone our physical and mental skills to perfection, but audience only sees a few seconds in a movie scene.
Which movies do you think of when you visit Taipei?
Ang Lee is a Taiwanese film director, hence his films come to my mind. Internationally he is known for the films "Crouching Tiger, Hidden Dragon", "Brokeback Mountain", and "Life of Pi", just to mention a few.
What is your favorite food in Taipei?
A street food called Da Ji Pai has become my definite favorite. It's a piece of fried chicken breast that is cut in layers to make it giant size steak. Then they marinade and fry it and add a mix of spices. It is eaten with hands like a hamburger. Here is a video that shows how it is prepared.
What is your favorite place in Taipei?
Yangmingshan National Park became important to me because it was one of the few places I could be close to nature, and enjoy its peacefulness. Taipei metropolitan area has over 7 million inhabitants. At the end of 2014, the population density was 9,942 people per square kilometer, compared to my home town Helsinki where it is 2,927.
What would you recommend travelers to do in Taipei?
Taiwanese uphold the traditional Chinese culture. Descendants of various dynasties live there, so the cultural heritage is very rich. Visit the National Palace Museum to see the Chinese treasures. It's free to visit the temples in Taiwan. Locals use their services frequently, often they ask guidance from the gods, saints and their ancestors. Taipei 101 building is an engineering miracle that portrays the Taiwanese mentality for superior quality and continuous development. It is one of the highest buildings in the world, yet it is built on an island that is hit by frequent earthquakes and typhoons. Night markets are open every evening, and the busiest time is after 11pm. Tourists might buy souvenirs and other things at night markets, but locals mainly spend their money on street food.
Hong Kong, China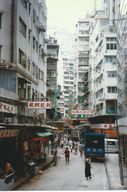 What stuntwork related experiences you have in Hong Kong?
I visited the Bruce Lee's statue. There's also a little known Bruce Lee memorial place on top of a car park building. Hong Kong cinema is familiar to all stunt people because of the martial arts legends, such as Bruce Lee, Jackie Chan, Jet Li and Donnie Yen.
Which movies you think of when you visit Hong Kong?
Jackie Chan's films are mainly produced in Hong Kong , thus his films such as Police Story, and Drunken Master come to my mind. The language in Hong Kong is Cantonese, whereas the rest of the China speaks Mandarin. Jackie Chan's Mandarin isn't that fluent, hence if he acts in a film that is in Mandarin, he may have someone else to speak his lines.
What is your favorite food in the city?
Hong Kong style made steamed dumplings served in bamboo boxes.
What is your favorite place in Hong Kong?
During my last visit, there was one restaurant with one Michelin star. It was difficult to get a table there for dinner, and the prices were steep. Fortunately, during the daytime they served lunch: no need to make a table reservation, and the food was the same, but priced reasonably. It was the only restaurant that I visited twice during my journey.
What would you recommend travelers to do in the city?
Eat the local Cantonese dishes. Go to the cinema to see Chinese-Hong Kong films. Most of them are not shown in the Western cinemas.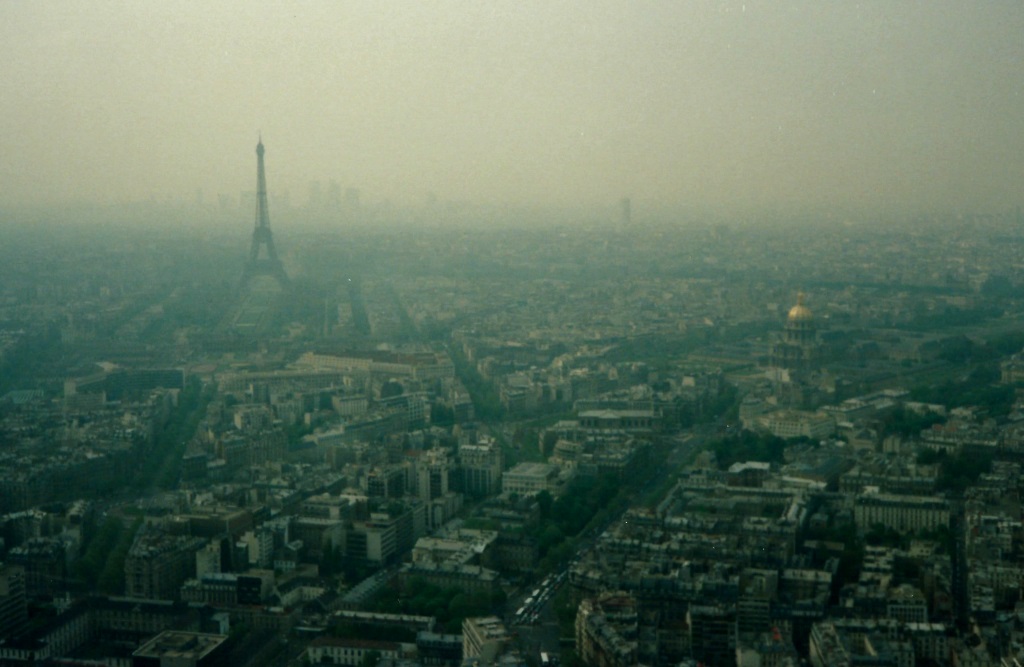 Paris, France
What stuntwork related experiences you have in Paris?
I trained parkour with a local friend of mine. It was actually a sightseeing tour of the city that ended at the foot of the Eiffel Tower.
Which movies you think of when you visit the city?
Luc Besson's Taxi is an awesome showcase of different stunts, while at the same time is a very entertaining action film. Banlieu 13 films are also great starring a French stuntman Cyril Raffaelli, and David Belle, one of the founding fathers of parkour.
What is your favorite food in Paris?
Fresh croissants in the morning at a café with a view to the street.
What is your favorite place in the city?
Walking alongside the river Seine.
What would you recommend travelers to do in Paris?
I bet everyone has their own opinions about Paris, and what they love about it. I enjoy a foreign city the best if I have a local friend who can accompany me. Thus, I recommend travelers to befriend a French person, especially one who has cultivated his or her cultural awareness. French have deep insight into their own culture, and at the same time they are very interested in learning about other cultures. It's a win-win cultural exchange.
Tromsø, Norway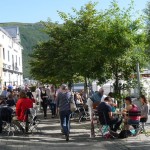 What stuntwork related experiences you have in Tromsö?
I've been there twice attending a stunt workshop for wire stunts. Both times we had the privilege to follow Mr. Joe Perez's instructions. He is an exceptional rigger (ie. the guy who makes all the engineering and technical things possible).
Which movies you think of when you visit the city?
During my last visit I found out that a Finnish film "Rare Exports Inc.", directed by Jalmari Helander, was shot in the same Film Camp in Tromsø.
What is your favorite food in Tromsö?
Anything with Norwegian salmon. Even though Norwegian salmon is exported overseas, eating salmon in Norway makes it slightly more delicious.
What is your favorite place in the city?
The surrounding mountains. Unfortunately, I haven't had the chance to climb on the summit of any mountain yet. But I am 99% certain that once I do it, the mountains are my favorite place.
What would you recommend travelers to do in Tromsö?
See a show of the local circus school, Kulta.
Lisbon, Portugal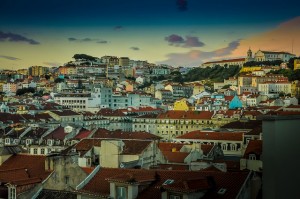 What stuntwork related experiences you have in Lisbon?
I visited my friend who lives in Lisbon and happens to be a stuntman as well. Unfortunately, prior to my trip to Lisbon I had injured my both legs at a commercial shoot. My colleague was looking forward to practicing with me, but as he was jumping all I could do was to sit in a shade and watch him have fun.
Which movies you think of when you visit the city?
A Portuguese film titled "Filme da Treta". My friend worked as the stunt-coordinator for that film. It is in Portuguese without English subtitles, so I am still not sure what the film's message was.
What is your favorite food in Lisbon?
Portuguese dessert Crème Caramel.
What is your favorite place in the city?
Alfama district where houses were built quite close to one another, and the streets don't follow a straight path. On a sunny, super hot summer day it was still possible to wander around the streets because they are in shade. It is a very picturesque district filled with bars and pubs.
What would you recommend travelers to do in Lisbon?
If you're on a tight schedule, at least visit the Belèm district. There you have the Atlantic Ocean on one side and the other side is filled with cultural monuments.
Here you can find Tung Bui's home page. He was recently featured at Finland's largest nationwide newspaper.
More information about the stunt book where Tung Bui has the lead role. The author of the book is H-P Virkki.