European Union has established an annual prize to promote European fiction authors who haven't made a big breakthrough among big audiences yet. The prize, worth 5000 euros, is awarded to 12 authors who live in an EU country or in a number of non-EU countries in Europe. The winners in 2015 represent a great variety of European cultures and languages.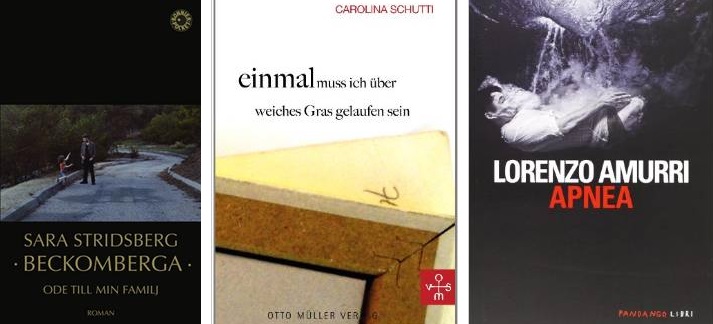 The European Union Prize for Literature is a joint effort by European book trade. The European Booksellers' Federation, Writers' Council, and the Federation of European Publishers all hope to encourage translations for books written in national languages. The winners were nominated by national juries.
The winners in 2015 were:
Carolina Schutti (Austria) for Einmal muss ich über weiches Gras gelaufen sein (Once I must have trodden soft grass). Otto Müller Verlag, 2012.
Luka Bekavac (Croatia) for Viljevo. Fraktura, 2013.
Gaëlle Josse (France) for Le dernier gardien d'Ellis Island (The last guardian of Ellis Island). Editions Noir sur Blanc, 2014.
Edina Szvoren (Hungary) for Nincs, és ne is legyen (There Is None, Nor Let There Be). Palatinus, 2012.
Donal Ryan (Ireland) for The Spinning Heart (Le cœur qui tourne). Doubleday Ireland, 2013.
Lorenzo Amurri (Italy) for Apnea. Fandango Libri, 2013.
Undinė Radzevičiūtė (Lithuania) for Žuvys ir drakonai (Fishes and Dragons). Baltos lankos, 2013.
Ida Hegazi Høyer (Norway) for Unnskyld (Forgive me). Tiden Norsk Forlag, 2014.
Magdalena Parys (Poland) for Magik (Magician). Świat Książki, 2014.
David Machado (Portugal) for Índice Médio de Felicidade (Average Happiness Index). Dom Quixote, 2013.
Svetlana Zuchova (Slovakia) for Obrazy zo života M. (Scenes from the Life of M.). Marenčin PT, 2013.
Sara Stridsberg (Sweden) for Beckomberga – ode till min familj (The Gravity of Love). Albert Bonniers Förlag, 2014.