Intel is hoping more mobile device manufacturers would use its processors and other components on their products, and has created an exciting concept product to showcase the power of its processors in mobile devices. Intel Tiger Rapids is a tablet/e-reader device, or a unique laptop, that is about the size of a sturdy notebook. It can be used for reading, writing, and for all other things that tablets and ereaders are used.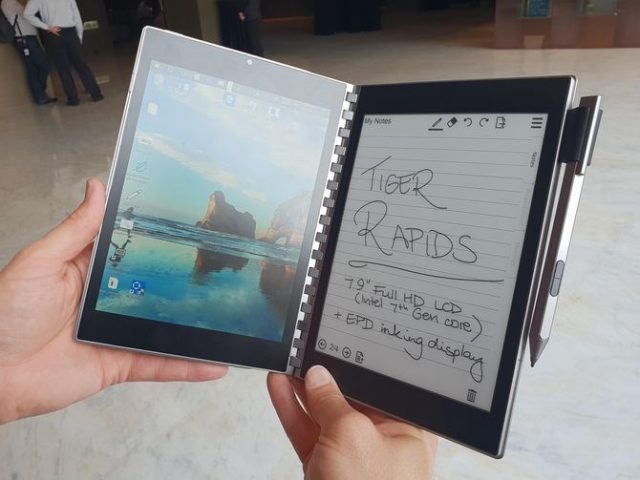 Intel Tiger Rapids tablet/ereader concept.
The Intel Tiger Rapids device consists of two elements: a tablet and an E Ink device that are hinged so that the device can be closed like a notebook, and opened like a laptop. The two elements can be turned so that they are back-to-back against each other.
The E Ink screen recognizes handwriting with a stylus. A virtual keyboard cab be projected on the E Ink screen, allowing typing.
The tablet side of the Tiger Rapids device has 7.9-inch LCD display. The E Ink display is 7.8 inches in size. A Kaby Lake Core processor is the engine in the device and Wi-Fi connects it to the world. A USB-C port can be used to recharge the device.
A potential problem for a device that comes with two screens is its retail price. In this case, both the LCD and E ink screens are touch sensitive, adding cost. It may be difficult to squeeze the retail priced under 500 dollars/euros, but I certainly hope a company manages to do it.
Also battery life could be a problem, but Intel told Cnet that the Tiger Rapids prototype runs for 13-15 hours which is very good. Almost two full work days before a recharge is required.
The Intel prototype is very compact in size and easy to carry along in a bag, or even in a pocket of a winter jacket. For typing on a virtual keyboard (in this case, on the E ink screen), a 10-inch screen – or even larger – would be better. 10 inches is probably the sweet spot considering product price, usability for work (and leisure) and portability.
Here is a video by Engadget where a reporter makes a brief hands-on test to the Intel Tiger Rapids.