Practically all new ebooks are being published in EPUB and Kindle formats so that they are easily accessible on all tablets, ereaders, smartphones and computers (independent of their screen size). A number of books published years ago in print may only be available in PDF format, and the PDF file format was never designed with small screens in mind (it is simply a replica of a printed page). That's why reading an PDF ebook or document can be frustrating on a small-screen ereader. So, a larger screen is required for PDF, and that's what Onyx ereader is delivering.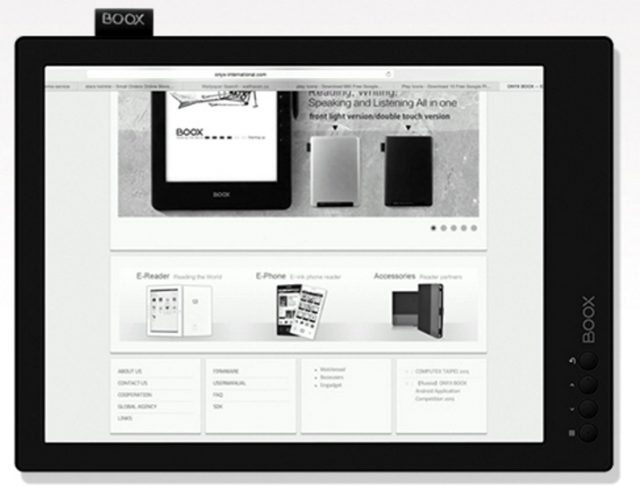 The Onyx Boox Max comes with a 13.3-inch E ink screen which makes it a good choice for anyone who is reading textbooks and other non-fiction books in PDF format.
The Boox Max has a feature that is rarely included in ereaders: you can write on the screen. A stylus is attached to the side panel, and using that stylus it is possible to write on the screen.
There definitely is a large group of people who need a 13.3-inch ereader, but it is not for everyone. The device doesn't fit into a small bag or purse, but you have to have something where you can carry it. For instance, would I take this ereader on a trip to Budapest? Probably not, I would take a 10 inch tablet and a smartphone. The current price for the Onyx Boox Max is $650, which means it has to compete against 12-inch tablets in price.
Having said that, an ereader with large screen would be nice to have in the office and at home.
Here is a video recorded by Armdevices.net where the Onyx Boox Max is demonstrated. It is a five minute video, but the 13.3 ereader is shown right in the beginning and after four minutes.
Onyx Boox Max key features and technical specifications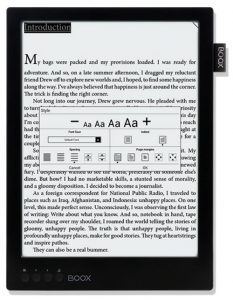 13.3 inch screen with 16 shades of grey, 1600×1200 resolution.
Flexible screen with handwriting input.
Full-screen touch with stylus, support handwriting and annotation.
Android 4.0, possibility to download additional applications.
CPU: Cortex-A9 1G Hz.
RAM: 1G LPDDR2
Storage space 16GB.
Memory card: Micro SD (up to 32Gb)
3.5mm connector for headphones.
Microphone.
Micro USB 2.0
WIFI 802.11b/g
Bluetooth 4.0
Ebook formats: PDF, TXT, HTML, EPUB, CHM, PDB, MOBIPOCKET (Non-DRM), FB2, DJVU
Displays JPG, PNG, GIF, BMP images.
Plays MP3, WAV audio files.
Dimensions 325 x 237 x 7.5mm.
Weigth around 550g.
Operating Temperature 0°C- 50°C.
Battery 4100mAh LI-ION Polymer.
Standby battery around 4 weeks.
Charging takes about 3 hours.