People who read plenty of ebooks often like to have a dedicated ereader device, like a Kindle, Kobo, Sony, or Tolino for reading. The reason for this is the greyscale E ink screen that doesn't flicker and consumes very little energy. The downside is that you have to carry a smartphone or a tablet as well, because an ereader doesn't let you do anything else but read. But what if you had a smartphone with two screens: an LCD for ordinary tasks and an E ink display for ebooks? You would get all the features of a smartphone plus an E ink screen for reading?
These kind of products exist. You may not find one at your local electronics store, but at the moment it is possible to choose from (at least) two models: the Yota Phone and the Siam 7x.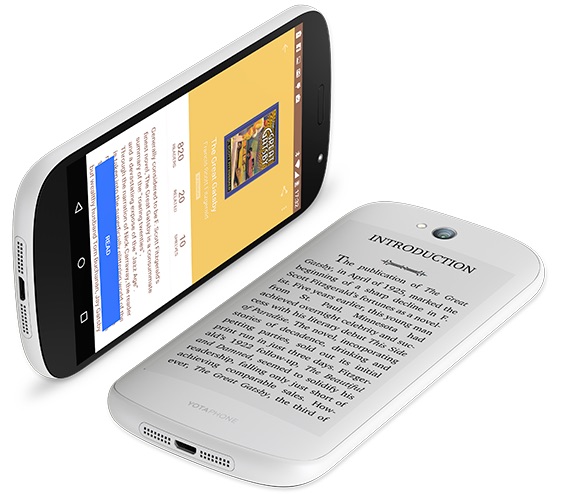 YotaPhone
The YotaPhone comes with 5-inch color screen on one side and an 4.7-inch greyscale screen on the other side of the phone. YotaPhone is a pioneer of dual screen smartphones. The current model is the company's 2nd generation product, and the 3rd generation dual screen smartphone is in the works.
In Europe, the YotaPhone is priced at 299 euros, but it is available at the manufacturer's online store to other parts of the world as well.
4.7-inch always-on 16-level greyscale screen: 960×540 resolution, 235 ppi, full capacitive touch
5-inch color screen (AMOLED) : Full HD 1920×1080, 442ppi
Android™ 4.4 operating system
Qualcomm® Snapdragon™ 801 2.2 GHz quad-core
Reading with Yota Reader (3G): up to 109.3 hours
2GB RAM
32GB eMMC
Main camera: 8 megapixels
Front camera: 2.1 megapixels
2500mAh lithium-polymer battery
3.5mm headphone connector
FM radio
GSM/EGPRS 850, 900, 1800, 1900 MHz
WCDMA, DC HSDPA (rel. 8, cat. 24)
HSUPA (rel. 7, cat 7) bands 1 (diversity), 2, 5 and 8
LTE (rel. 9, cat 4) bands 3, 7 and 20
WiFi 802.11 a/b/g/n/ac
MicroUSB 2.0
Bluetooth 4.0
NFC
A-GPS + GLONASS
Nano-SIM
Dimensions 144.9 x 69.4 x 8.95 mm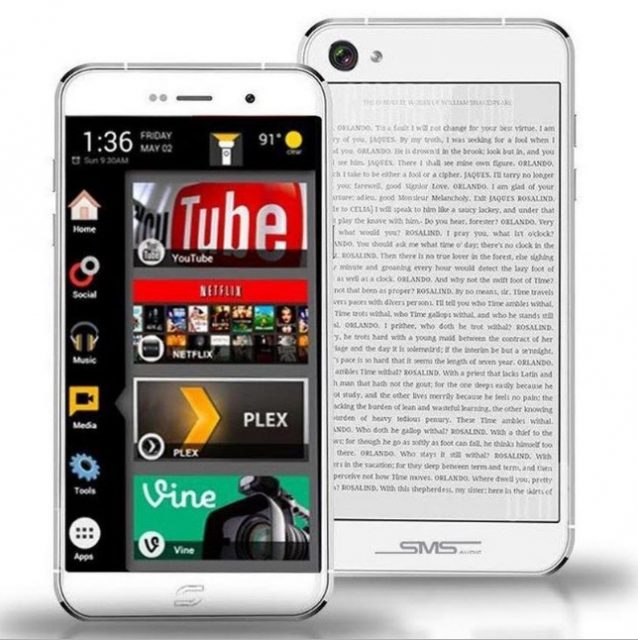 Siam 7x
The Siam 7x is a 5-inch smartphone on one side, and a 4.7-inch e-ink ereader on the other side. Despite it comes with two screens, the phone is extremely slim (8.9 mm / 0.35 inches). In addition dual screens, the Siam has dual SIM card slots.
The product is priced at $550, but Cnet's reviewer didn't find find the Siam 7x worth the money because of problems with its ereading features.
Here is a video that shows how to use the Siam 7x dual screen phone:

(video via the-ebook-reader.com)