Yes, engineers can cook delicious meals. They just do it in their own way. Who is the best guide for cooking lessons for young nerds and geeks who may start college or university studies soon? Another person who sees the world in a similar way. The Engineer's Cookbook has been authored by an engineer, and intended to a fellow engineer.
The book gives a systematic presentation of the principles behind the engineer's cooking skills. It helps the engineer to see what is essential in food, to recognise his own strengths, and to adapt his skills to make good food.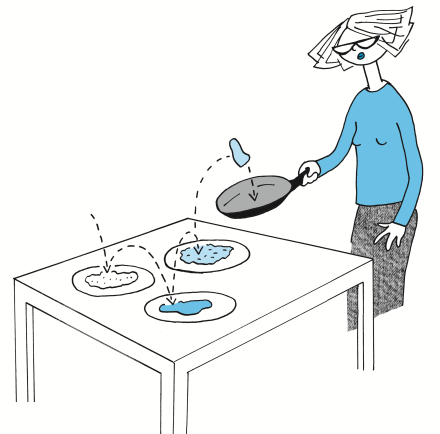 There is no such thing as add a little salt or pour some red wine into the kettle. Measurements are precise for the engineer, also when cooking a dinner or lunch.
For those not technically educated, the book offers an exhilarating insight into the inner life of the engineer – and dozens of practical and clearly-illustrated recipes that allow the rest of us – ordinary people – to prepare delicious food easily.
The recipes in the book are typical tried-and-tested engineer foods, such as cabbage rolls, meat loaf, prawn salad, stuffed peppers and strawberry cake. In addition to the recipes some useful dining skills are described, for instance, setting the table, seating the guests, toasting, and behaving at a restaurant.
A brief sample from a chapter that describes the inner world of a geek:
"The engineer is above all a rational being, whether it is stake, poultry, fish or vegetables that he prefers.
At the same time, the engineer is forever a child at heart. For him, preparing food is a mental game where you seek out matching ingredients, optimise their quantities, schedule their preparation times, and serve precisely the needed amounts of the correct types of food at exactly the right time. When all this falls in place, the engineer enjoys himself."
If you have wondered why an engineer approaches cooking differently, a chapter in the book describes it as follows:
"It may seem that the engineer's thought world is in this way somewhat strait-laced or neurotic. This is nonetheless not true. Deep down, the engineer is really quite relaxed. He has inner peace. He has thought things through and knows what is right. For that reason, he also knows to anticipate the outcome of each solution. This can of course annoy less confident individuals and the engineer does well not to always reveal the extent of his wisdom.
Due to his inner peace, the engineer can also be a humble cook. He appreciates and knows how to use ingenious ingredients, whether they are nature's own or developed by other engineers. Onion or minced meat, for instance, are in their unassuming simplicity and versatility outstanding inventions, before which the engineer is humbled. If only he were capable of such simplicity, focusing only on the essential!"
Download free sample chapters, and get the best price for the book here.